Efforts urged to curb floods, drought
By Guo Nei (China Daily)
Updated: 2004-07-03 01:07
Vice-Premier Hui Liangyu on Friday urged officials at all levels to make full preparations for flooding and drought conditions across the country this summer to avert natural disasters.
All departments should be fully mobilized to tackle flood control and drought relief to best protect people's lives and property, Hui said at a large-scale session attended by officials of the State flood-control headquarters.
Safety along major rivers, large reservoirs, cities and transportation lines must be guaranteed to ensure urban citizens have enough water for their daily lives, said Hui.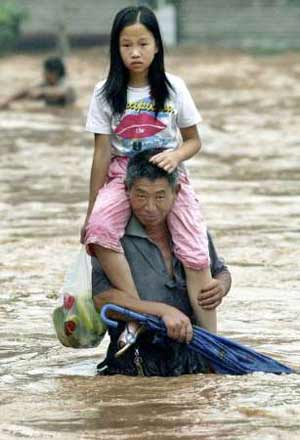 A Chinese father and daughter wade through floodwaters in Jintang County, Chengdu, Southwest China's Sichuan Province, June 29, 2004. The low-lying county along the Yangtze River is frequently flooded by heavy rains in summer. [Reuters]


Floods in past weeks have killed dozens of people across the nation.

Rainstorms have been thrashing Southwest China's Sichuan Province where 15 lives have been claimed and seven are missing, according to the Sichuan disaster relief centre.

Hui said meteorological departments are predicting that some large-scale floods will probably plague certain areas, which could lead to serious geological disasters in various mountainous areas.

Vice-Premier Zeng Peiyan also hosted a cabinet meeting on Thursday in Beijing to discuss how to deal with geological disasters.

Zeng said areas of the Three Gorges Project in Central China should receive special attention to prevent disasters because of its special geological conditions.

Since the middle of last month, landslides caused by rainstorms in Hunan Province have killed at least 27 people, while a total of 3.3 million locals were plagued with problems because of the onslaught of rains.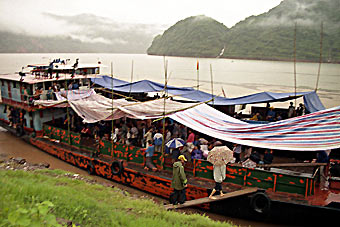 School children are evacuated to safe places by a ferry boat in Yuanling in western Hunan Province June 24, 2004. Heavy rains hit the area on Wednesday. [newsphoto]


While some areas are being plagued by floods, some cities have been scorched by high temperatures.

Continuous drought and heat have nearly depleted water resources in the South China boomtown of Shenzhen, which neighbours Hong Kong.

The reservoirs have just 80 million cubic metres of water, or 24 per cent of their total capacity, and the water can last for only a month with normal water supply, said Liao Liyang, director of the Shenzhen flood prevention, drought and wind control headquarters.

"If there isn't a large-scale rainfall within a month, the city will be able to only meet 20 per cent of normal supply," Liao said.

The rainfall in the past six months was 27 per cent less than the average for the previous years, while urban water consumption has been climbing remarkably.

But the water supply to Hong Kong will not be affected, Liao said. China's mainland has been supplying clean water to Hong Kong since the Dongjiang-Shenzhen Water Supply Improvement Project was completed.

Water from the upper reaches of the Dongjiang River is diverted to Hong Kong via a 57.1 kilometre-long closed-pipeline to avoid pollution problems.

And the city of Guangzhou, capital city of South China's Guangdong Province, has been experiencing a sustained heatwave since June 28.

The temperature monitored by Wushan ground meteorological observatory of Guangzhou rose to 38.9 C by 4 pm on Wednesday, a record high for the area.

Hui said flood control and drought relief is "as heavy as a mountain" and officials at all levels must pay full attention to their work.




Today's Top News
Top China News

Stress kills workaholic academics at young age




Efforts urged to curb floods, drought




US may impose quota on Chinese textile




Ministry to enhance supervision on telecom




UK indicts three in shell-fish drownings




Migrant workers given classes on AIDS