Insurgents fire rockets at Baghdad hotels
(Agencies)
Updated: 2004-07-02 21:39
Insurgents launched a series of rocket strikes in Baghdad on Friday, hitting two hotel compounds used by Westerners, police and witnesses said.
The attacks came as Jordan's King Abdullah II announced he was willing to send troops to help the new Iraqi government, potentially becoming the first Arab state to do so.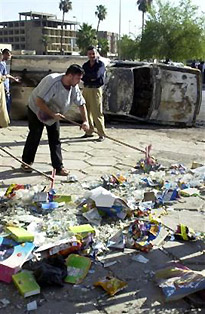 Shopkeepers clean up damage from a rocket attack in Baghdad, Iraq, Friday, July 2, 2004. Multiple rockets were fired from the back of a vehicle, apparently shot at an Iraqi police station, but most went astray and no one was seriously injured. [AP]

Yemen also said Friday it was willing to send peacekeeping troops to Iraq under a U.N. mandate.

Kidnappers, meanwhile, fulfilled a promise to free two Turkish hostages after their employer agreed to stop doing business with the U.S. military in Iraq, Turkish authorities said.

In one of Friday's strikes, insurgents used the back of a van parked just off central Baghdad's Firdous Square to fire rockets from a multiple-rocket launcher, a U.S. soldier told The Associated Press. Another soldier said the launcher fell over as a third round was fired, setting the vehicle ablaze.

One rocket from the attack struck the Sheraton Hotel but caused only minor damage. A second exploded in the parking lot of the Baghdad Hotel, used by Western security contractors.

Flames and black smoke billowed from the charred van, which burned near a blue domed mosque just off Firdous Square, where U.S. forces hauled down a statue of Saddam Hussein on April 9, 2003, after the city's fall.

The U.S. military said insurgents were aiming for the nearby Green Zone, the heavily guarded area across the Tigris River that houses the U.S. Embassy and offices of Iraq's newly sovereign interim government. The rockets fell short, and one destroyed another vehicle.

In a separate attack in central Baghdad, insurgents fired rockets near the Marjam Hotel, which also is used by Westerners. One rocket struck a statue in nearby Wathik Square and another landed near the Indonesian Embassy without exploding, police said.

In a third strike in western Baghdad's Yarmouk neighborhood, one rocket hit the front gate of the fundamentalist Iraqi Islamic Party headquarters, blowing out windows and wounding a guard, the U.S. military said.

The attacks were the latest in a campaign by insurgents that has continued despite Wednesday's handover of sovereignty from the former U.S. occupation authority.

About 160,000 foreign troops, mostly American, remain in Iraq to provide security and training. U.S. officials have warned that the transfer of sovereignty would not stop militant assaults.

In Washington, a former Coalition Provisional Authority official, speaking on condition of anonymity, said American officials believe the insurgency is being carried out by about 4,000 to 5,000 Saddam loyalists.

Other violent acts are being committed by a couple hundred supporters of Jordanian terror mastermind Abu Musab al-Zarqawi and another group of hundreds of foreign fighters, the official said. In addition to hardcore members of these three groups, there are untold numbers of "supporters or facilitators," said the official, who is deeply familiar with the security situation in Iraq.

American officials believe the followers of Saddam, not al-Zarqawi, pose the greatest threat to the new government.

But there is little Saddam, who was arraigned in court Thursday, has provided in the seven months since his capture to help illuminate the threat. Saddam had revealed "almost nothing" of any intelligence value during months of interrogation, the official said.

In an interview in London on Thursday with the British Broadcasting Corp. television "Newsnight" program, Jordan's king said it would be hard to turn down any request to help Iraq's new government.

"I presume that if the Iraqis ask us for help directly, it would be very difficult for us to say no," he said.

"Our message to the president or the prime minister is: Tell us what you want. Tell us how we can help, and you have 110 percent support from us," he said. "If we don't stand with them, if they fail, then we all pay the price."

The two Turks released Friday were Soner Sercali, an air conditioning repairman, and his co-worker Murat Kizil. They were reported missing June 1.

The kidnappers, who identified themselves as the Mujahadeen Brigade, freed the two men after their employer, Kayteks, pledged to stop working in Iraq.

A video shown by Al-Jazeera television Friday just before the release showed the two men kneeling before three masked insurgents. One gunman read a statement saying the men were being released after having promised not to work with coalition forces.

"To honor the Muslim Turkish people, and upon the repentance of the two hostages, and their pledge not to do such a thing again ... we decided to release them in return for nothing," the gunman said.

An official at the Turkish Embassy in Baghdad, speaking on condition of anonymity, confirmed the hostages' release.

"They are on the way to their company in Iraq," he said, adding that no ransom had been paid.

Thousands of Turks work as truck drivers or contractors in Iraq. The captives were accused of working for the U.S. occupiers.

More than 40 people from several countries have been abducted in Iraq since April, many of them released or freed by coalition soldiers.

On Tuesday, insurgents in Iraq freed three other Turkish hostages. The abductions were claimed by al-Zarqawi, whose followers killed American Nicholas Berg and South Korean Kim Sun-Il.

Meanwhile, Ansar al-Sunnah, a militant group with purported links to Al-Qaida, claimed responsibility for killing a Finance Ministry official in Baghdad.

Ehsan Karim, head of the ministry's audit board, died Thursday after a roadside bomb attack in Baghdad, said Sa'ad al-Amili, an Iraqi Health Ministry official. Karim's guard and driver also were killed in the blast, which wounded four bystanders.

Insurgents repeatedly have targeted Iraqi officials participating in the interim government because they are seen as traitors participating in the U.S.-led occupation.

In London, the government said a British soldier will stand trial for shooting a 13-year-old Iraqi boy last year in southern Iraq.

Pvt. Alexander Johnston of the King's Own Scottish Borderers will face court-martial in the Sept. 15, 2003, incident at al-Uzayr, Attorney General Lord Goldsmith said. Johnston also could face an alternative charge of negligent handling of a weapon.

The Ministry of Defense would not give details of the incident or say how badly the boy was wounded. Military sources said the shooting occurred while the soldier was on guard duty.

No trial date was set.

In June, the government said military police were investigating 30 cases of alleged abuse, civilian deaths and injuries in Iraq.

On June 14, the government announced that four soldiers from the Royal Regiment of Fusiliers would face courts-martial on charges of abusing prisoners.




Today's Top News
Top World News

Preparations urged to curb floods, drought




US may impose quota on Chinese textile




Ministry to enhance supervision on telecom




Migrant workers given classes on AIDS




UK indicts 3 in shell-fish drownings




Toyota to recall Lexus sedans sold in China