Afghanistan elections face more delays
(Agencies)
Updated: 2004-07-02 14:12
Afghanistan's national elections — beset by deadly Taliban attacks, feuding warlords and political squabbling — are in jeopardy and may have to be delayed again, a top government official said Thursday.
After weeks of assurances that the vote would take place in September, Farooq Wardak, a senior member of the Afghan election management body, said the group cannot meet a deadline to schedule a vote that month.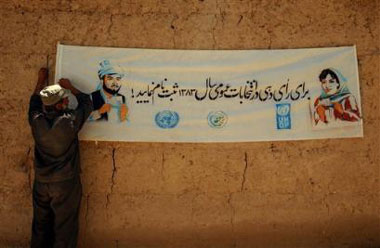 An Afghan soldier puts up an election participation poster on a wall near the voter registration office in Baghe-Alam village, about 50 kilometers (31 miles) north of Kabul, Afghanistan June 26, 2004. Much anticipated Afghan elections will be delayed past September because of wrangling among officials and political parties, a senior government official told The Associated Press on Thursday. [AP]


Afghan law says the polling date must be set at least 90 days in advance, making Friday the last chance to announce a Sept. 30 election.

Wardak said the group would not reach a decision on a date until at least next week. "Much more consultation is required," he told The Associated Press as he shuttled between meetings. "I'm hopeful that next week we'll have a decision."

Wardak initially said the government would "stick to" the 90-day requirement for scheduling the election date. But after meeting with top U.N. official Jean Arnault and President Hamid Karzai, he backed off, saying there was "always flexibility."

"If all the preparations are in place, the end of September is still possible," Wardak said.

Karzai has pledged repeatedly to hold elections in September, despite mounting violence and concern that warlords and drug barons will use guns and wealth to cement their power.

Presidential and parliamentary elections were already delayed from June, and October is seen as the last chance to hold a vote before snow closes high mountain passes until spring 2005.

Wardak said the government statistics office had yet to deliver population estimates needed to decide on the distribution of parliamentary seats.

He also said only four of 20 political parties consulted by the election body insist on the parliamentary vote being held this fall.

The votes are supposed to be held simultaneously, but observers say there is a possibility officials could separate them, holding the presidential vote in October and the parliamentary election next year.

Karzai argues that blocking the new Parliament would betray Afghans' hopes, some three years after the ouster of the hard-line Taliban regime and more than two decades after the nation was plunged into a series of ruinous wars.

International officials have been cautioning for months that security is simply not adequate to hold the election.

The United Nations warns that warlords and faction leaders — some in government — must disarm their private armies to keep the vote credible.

A U.N. spokesman acknowledged Thursday that setbacks in disarming private militias have affected deliberations on the date of the election.

"There is indeed a debate," U.N. spokesman Manoel de Almeida e Silva said. "Of course, if the debate goes on, that will have an impact on the election date."

In March, Karzai used a promise to disarm 40,000 irregular fighters by the end of June to win pledges of billions of dollars in international reconstruction aid. But only 9,700 soldiers have given up their guns.

Violence has plagued the run-up to the vote.

Last week, a bomb in the eastern city of Jalalabad killed two election workers and wounded 13 other people. The same city was hit by twin bomb blasts Wednesday that killed four people.

Afghan officials say gunmen searched civilians in the Taliban stronghold of Uruzgan June 25 and killed as many as 17 after finding they were carrying voter registration cards.

Some 60,000 foreign troops and newly trained Afghan security forces are being marshaled to shield polling stations, and Afghans seem keen to sign up.

So far, 5.5 million of the estimated 9.5 million eligible Afghans have registered to vote, including 2 million women, and the total is rising by 125,000 a day.

Andrew Wilder, head of the Afghan Research Evaluation Unit, an independent Kabul-based research group, said Afghans' hopes of democracy could founder if the vote is scarred by violence.

That could be bad news for U.S. President Bush, who is running for re-election in November.

"The majority of press coverage is going to be negative," Wilder said.

But Hazrat Gul, a 45-year-old trucker from Logar, said the country can't wait.

"The election will put Afghanistan back under the rule of law and prevent any more violence," Gul said at a Kabul fruit stall. "In the provinces today, every commander is president. We need neutral people."




Today's Top News
Top World News

Officials punished for SARS virus leak




Hong Kong looks to bright future




Saddam scoffs at charges of war crimes




US job losses not trade related -- Barshefsky




Jump in water prices stayed




New vehicle emission standards formulated