Tung to HK protestors: Your voices heard
By Gang Bian (China Daily HK Edition)
Updated: 2004-07-02 10:13
Speaking after a mass rally that police estimated drew 200,000 people, Chief Executive Tung Chee-hwa said yesterday he had heard people's views and understood their aspirations.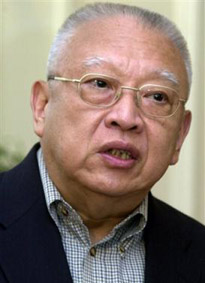 Hong Kong Chief Executive Tung Chee-hwa speaks to reporters at Hong Kong government headquarters Thursday, July 1, 2004. [AP]

He promised that Hong Kong would carry out constitutional development - but in a gradual and orderly manner in line with the Basic Law. This would lead to the ultimate achievement of universal suffrage in the SAR. He also called for concerted efforts to sustain the current economic recovery and to maintain good relations with the central government.

Meanwhile, a leading official from the Liaison Office of the Central People's Government in Hong Kong called on local people to help protect and safeguard social stability.

He said some of the banners and slogans used by the organizers during the rally were "inappropriate".

The event was organized by the Civil Human Rights Front. Participants started to gather in Victoria Park after noon. The procession began at 2:30 pm and proceeded through Causeway Bay, Wanchai and Admiralty. The first group of demonstrators arrived at the government headquarters in Central at 4:00 pm and dispersed afterwards. Roads along the procession route were closed to traffic. Stops for buses and minibuses had to be temporarily relocated.

Hong Kong citizens have always enjoyed the rights and freedoms to hold public rallies, processions and demonstrations in line with the Basic Law, the leading official of the liaison office said.

But he noted that the welfare of Hong Kong people hinges on protecting and safeguarding social stability and promoting economic recovery and the improvement of people's livelihoods.

"This is also the common wish of the people of the whole country. We would like to, together with Hong Kong people from all walks of life, make strenuous efforts to this end," he said.

But he pointed out that some banners and slogans used in yesterday's mass rally did not conform to the common wish of Hong Kong citizens for stability, development and harmony.

He expressed the hope that organizing groups and individuals could play constructive role in safeguarding Hong Kong's stability and prosperity.

At a press conference, Tung said: "I have clearly heard your views. I understand your aspirations."

He thanked Hong Kong people for giving him forthright advice over the past year, which had helped the government rejuvenate the economy and improve its governance.

Tung also pledged to advance constitutional development "with the ultimate aim of universal suffrage in accordance with the principle of gradual and orderly progress, the provisions of the Basic Law and the decision of the Standing Committee of the National People's Congress (NPCSC)".

He called upon various sectors of society to take part in the consultation exercise for political reform.

"With concerted effort of all members of our community, I know we will succeed. Let us work together to build a prosperous, stable, free, democratic, harmonious and united Hong Kong," Tung said.

In Beijing, Zhang Qiyue, spokesperson of the Ministry of Foreign Affairs, said that ever since Hong Kong's reunification with the motherland, Hong Kong people have enjoyed an unprecedented degree of democracy, something that the international community is able to see.

Xu Chongde, one of the drafters of the Basic Law, said it was Hong Kong people's freedom to hold demonstrations. He reiterated that democratization in Hong Kong must proceed step by step and in accordance with the Basic Law.

Some marchers' demands would not change the decision of the NPCSC on Hong Kong's electoral arrangements in 2007/08, he said.

In Hong Kong, Leung Chun-ying, a member of the Executive Council, said that chanting slogans could express wishes, but more concrete proposals were needed.





Today's Top News
Top China News

Officials punished for SARS virus leak




Hong Kong looks to bright future




Saddam scoffs at charges of war crimes




US job losses not trade related -- Barshefsky




Jump in water prices stayed




New vehicle emission standards formulated