'I am Saddam Hussein, President of Iraq'
(Agencies)
Updated: 2004-07-01 10:19
"I am Saddam Hussein al-Majid , president of the Republic of Iraq," the jailed former leader said haughtily as he greeted the head of an Iraqi tribunal, who talked him through his upcoming hearing.
Saddam wore his trademark moustache, a grey "dishdash," or traditional Arab dress, and appeared to have lost a lot of weight, an assistant to the tribunal's head, Salem Chalabi, told AFP.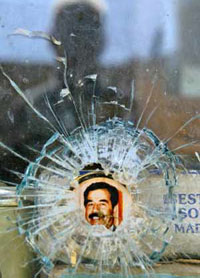 A portrait of toppled Iraqi leader Saddam Hussein lies behind a bullet hole in the window of a Baghdad watch repair shop June 30, 2004. Saddam Hussein and 11 of his senior lieutenants were handed over to Iraqi justice on Wednesday, two days after Iraq formally regained sovereign powers from U.S.-British occupiers. [Reuters]

The former strongman greeted Chalabi and his colleagues who visited him Wednesday morning at a high-security jail in Baghdad with a "cold hello," the assistant said.

"And then he asked: 'Are you going to question me today?'"

Showing his disdain for his visitors during the five-minute meeting, Saddam remained seated as everyone around him stood, according to the assistant.

Legal custody of Saddam and 11 of his former aides were handed to the new caretaker Iraqi government earlier in the day, but the US military will remain in charge of their security.

The process started at 5:00 am (0100 GMT) said the assistant, adding that he went into Chalabi's office to gather some papers and then the head of the tribunal along with a group of other people got into a convoy of cars that went to see Saddam and his lieutenants at a location that he refused to disclose.

The toppled leader is being held at Camp Cropper, a US military prison at Baghdad's former international airport, according to a humanitarian organisation.

"We arrived at about 8:45 am (0445 GMT) and we had to wait about 15 minutes before Saddam Hussein walked into the room," he said.

All the other 11 detainees were in prisoner uniforms but of different colours and came into the room separately one after the other, added the assistant.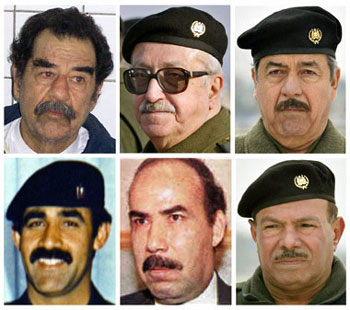 File photos(clockwise from top left) of former Iraqi officials: President Saddam Hussein, Deputy Prime Minister Tareq Aziz, military commander Ali Hassan al-Majid, known as 'Chemical Ali', Baath party regional commander Aziz Salih Numan, Saddam's half-brother and adviser Barzan Ibrahim Hasan al-Tikriti, and presidential secretary Abid Hamid Mahmud al-Tikriti. Iraq's newly installed government took legal control of Saddam and 11 of his senior lieutenants on June 30, 2004. [Reuters]


The second one to meet Chalabi and his team after Saddam left the room, was his cousin and close confidant Ali Hassan al-Majid, known as Chemical Ali for his alleged gassing of Kurds in 1988, who was arrested in August.

"He said 'I am tired, I am tired,'" said the assistant.

Then Iraq's former deputy prime minister Tarek Aziz appeared.

"He said nothing like the others who gave their names," said Chalabi's assistant.

As for former vice president Taha Yassine Ramadan, arrested also in August "he looked like he put on weight in prison," said the assistant.

Abed Hamid Mahmoud, Saddam's former secretary arrested in June 2003, said "I am innocent and one day you will discover that."

"The whole encounter with Saddam and his lieutenants lasted 15 minutes," said Chalabi's assistant.

Earlier Chalabi told AFP after his meeting with Saddam that the ousted leader was in "good health."

Saddam will be the first of the 12 prisoners to be charged on Thursday.




Today's Top News
Top World News

Shenzhen's bold move bolsters farmers' rights




China opposes Japan's sea gas decision




Beijing ready to talk with Taipei on links




CDC director resigns for SARS outbreak




China to lift restrictions on foreign banks




New licensing law streamlines bureaucracy