Southwest China floods and mudslides kill 15
(Xinhua)
Updated: 2004-07-01 09:47
Rainstorms have been thrashing southwest China's Sichuan Province for four days, claiming at least 15 lives and leaving seven missing, according to statistics from the Sichuan disaster relief center.
Twenty-one counties and cities had reported over 50 millimeters of rainfall by Wednesday night, including seven counties and cities with over 100 millimeters of rainfall, according to the Sichuan provincial meteorological observatory.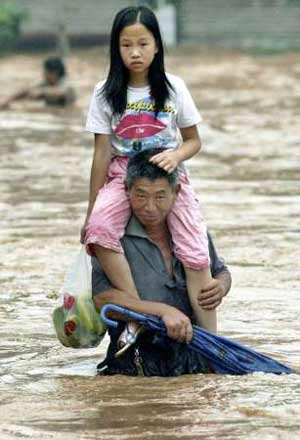 A Chinese father and daughter wade through floodwaters in Jintang County, Chengdu, Southwest China's Sichuan Province, June 29, 2004. The low-lying county along the Yangtze River is frequently flooded by heavy rains in summer. [Reuters]
Continuous rain has caused flooding, mud-rock flow and landslide across the province. The most serious landslide occurred in Xingwen County in Yibin City. Six were killed and seven were missing after they were buried under a landslide as they slept Tuesday night.
Five others were injured, three seriously, in a tragedy blamed on the heavy and continuous rain battering the area.
The China News Service said eight additional people have died in Sichuan over the past three days where 126 millimetres (five inches) of rain has fallen.
Torrential rains and flooding were responsible for nearly 2,000 deaths in China in the first nine months of last year, according to the latest statistics available.
This year could be no less disastrous. With the flood season approaching, China has warned that nearly 30,000 reservoirs have safety problems.
Today's Top News
Top China News

Beijing ready to talk with Taipei on 'three links'




China to lift restrictions on foreign banks




China opposes Japan's sea gas decision




New licensing law streamlines bureaucracy




Beijing's heritage status to be questioned




Fed raises rates, pledges gradual course