US strike against 'Zarqawi safe house'
(Agencies)
Updated: 2004-07-01 08:42
U.S. forces attacked and destroyed what they said was a "safe house" belonging to the Jordanian militant Washington views as its top guerrilla target in Iraq, Abu Musab al-Zarqawi.
The assault, which witnesses in the restive city of Falluja said wrecked the house and killed four people, was launched hours before ex-president Saddam Hussein was due to appear before an Iraqi court on Thursday for formal arraignment.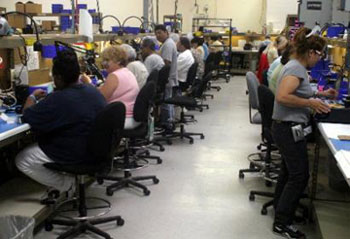 The production area at Taser International, is shown Wednesday, June 30, 2004, in Scottsdale, Ariz. US. Taser International Inc. won a $1.8 million contract to provide stun guns to military personnel _ the company's largest order ever. The deal announced Wednesday follows a previous smaller order by the U.S. Army for stun guns and accessories used in Iraq and a $1.5 million order from a foreign military for more than 3,000 Tasers announced last year. The vast majority of the company's sales have been to local law enforcement agencies. [AP]


He was formally handed over to Iraqi custody by U.S. forces on Wednesday, making a first appearance before a judge since his capture in December. He is accused over the death and torture of thousands during a 35-year rule, and could hang if found guilty.

U.S. forces made it clear Monday's formal handover of power to an Iraqi government would not weaken their pursuit of Saddam loyalists and foreign insurgents they believe are using Falluja as a base.

"On June the 30th, multinational forces conducted another strike on a known Zarqawi network safehouse in southwest Falluja based on multi-confirmations of Iraqi and multinational intelligence," Brigadier General Mark Kimmitt, deputy director of operations for the U.S. military, said in a statement.

There was no indication Zarqawi, who has claimed responsibility for several suicide attacks and the beheadings of an American and a South Korean hostage, was in the building.

Witnesses said four bodies had been pulled from the house in a southwest suburb of the city after a warplane fired a missile at it. Residents were looking for survivors.

"The house was completely destroyed," said one resident in Falluja, a potential hotbed of resistance to the new government and to coalition forces backing it.

CLASHES

The U.S. statement said "whenever and wherever we find elements of the Zarqawi network we will attack them."

The suppression of insurgency is the biggest challenge facing the new government, leaning as it will on 160,000 coalition forces remaining in the country.

Washington is offering a $10 million reward for the capture of Zarqawi, an Islamist militant aligned to al Qaeda.

Witnesses on the eastern edge of Falluja said clashes involving small arms and mortar fire had broken out between U.S. forces and guerrillas, but there were no reports of casualties.

The U.S. statement did not mention the clashes.

Saddam Hussein and 11 of his lieutenants were turned over to face Iraqi justice nearly 15 months after U.S.-led forces overthrew him. They will stay under U.S. military guard.

Iraq's President Ghazi al-Yawar was quoted as saying the death penalty, suspended during the U.S.-led occupation, would be reinstated.

Saddam will be charged with crimes against humanity for a 1988 gas massacre of Kurds, the 1990 invasion of Kuwait and the 1980-88 Iran-Iraq war, according to Chalabi.

Kuwait called for Saddam to be sentenced to death over Baghdad's seven-month occupation of the Gulf state in 1990-91.

Allawi's government wants to show Iraqis the occupation is really over, despite the presence of U.S.-led foreign troops, and to prove it can curb violence.




Today's Top News
Top World News

Beijing ready to talk with Taipei on 'three links'




China to lift restrictions on foreign banks




China opposes Japan's sea gas decision




New licensing law streamlines bureaucracy




Beijing's heritage status to be questioned




Fed raises rates, pledges gradual course