Lottery winner sold BMW, goes bush
(Shenzhen Daily)
Updated: 2004-06-30 08:50
A man who won a BMW car in a lottery in Xi'an City, sold the car and lent the money before starting life as a recluse on a mountain.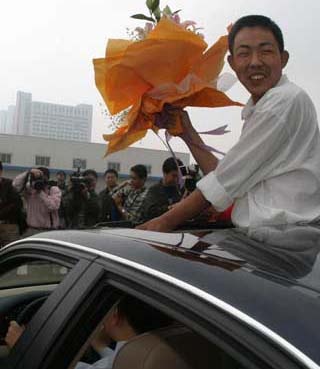 Liu Liang smiles on top of his hard-won BMW car in Xi'an, Northwest China's Shaanxi Province June 4, 2004. In a 17 million (US$2 million) China Sports Lottery in Xi'an in March, 17-year-old Liu drew a winning ticket that offered a prize of 120,000 yuan (US$14,500) and a new BMW car worth of 480,000 yuan (US$58,000). But the lottery center claimed that Liu held a fake lottery ticket, prompting Liu to take the center to court. After investigations, The court found that Yang Yongming, contractor of the lottery ticket selling cheated on four top prizes. Yang and 4 other suspets have been arrested by the local police. On Friday, the Xi'an lottery center authorities declared the lottery ticket Liu held was valid and apologized for the scam. [newsphoto]

Liu Liang, 18, said the car was sold for 300,000 yuan (US$36,000) but his father had lent almost all the money to his relatives.

Liu was now living at the home of a relative in a remote village on Qinling Mountain, the Chengdu Commercial Daily reported Monday.

"I felt relieved and safe here in this mountain village, so I decided to stay." Liu Liang said he could not stand the pressure from media attention.

And, because many strangers had asked his whereabouts, Liu was afraid that he was not safe in his own home.

Liu said the money was being kept by his father.

"I'm too young, so my father is taking care of my prize. He lent 240,000 yuan to my uncle to buy a house."

Liu did not say where the rest of the money went.

Liu's father doubted they would ever get the money back.

No relative left a receipt for the money borrowed. "They are our relatives. It is impolite to require receipts," said Liu's father.

Liu said he would return home in Xi'an City when the annual recruitment for soldiers starts. He wanted to be a soldier, like his elder brother who is serving in the army.

Liu Liang was at the center of a lottery scandal in Xi'an. The exposure of the scandal resulted in the arrest of five people and the removal of several government officials.




Today's Top News
Top Life News

Money Game: Rotating illusion of getting wealthy




More HIV, AIDS cases expected in Henan




EU ruling on China's market status 'unfair'




Piracy still plagues IT industry




Zeng: July 1 should be a day for celebration




Saddam to face charges in Iraq Thursday