Coach plane crash kills two in Sichuan
(Xinhua)
Updated: 2004-06-30 01:04
A coach plane crashed shortly after takeover Tuesday morning from Mianyang, southwest China's Sichuan Province, said sources with the China Civil Aviation College. Two crew, a coach and a student, were killed in the crash.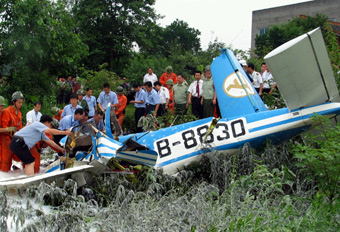 Rescuers try to locate the bodies of the two victims in a plane crash in Mianyang, southwest China's Sichuan Province, June 29, 2004. A civil aviation trainer crashed in Mianyang at 9 a.m. local time (0100 GMT) June 28, leaving two pilots - a learner and the instructor - dead. The bodies of the two victims have been found. [Xinhua]


The plane plunged into ground one kilometer away from the runway, when it was diverting to its course after takeover, said the sources.

The France-made plane, TB200, belongs to the college, which is headquartered in Guanghan County, 23 km away from Chengdu, capitalof the province.

The college has a flight training base in Mianyang.

The weather was fine with a visibility reaching 4.5 kilometers when the accident occurred, said the sources.

Earlier reports said that at about 9 a.m., the plane crashed into a vineyard in Shitang Township, Mianyang City, causing no explosion and fire, after hovering a circle in the air.

No accident were reported to happen to the plane during its service over the past 14 years.

The college has 107 coach planes and more than 500 coaches, more than 100 of whom have all-weather flight experience of more than 2,500 hours each.

Investigators from the country's southwest civil aviation administration have rushed to the scene to direct the rescue and aftermath work. Further investigation into the accident is going on.




Today's Top News
Top China News

More HIV, AIDS cases expected in Henan




Law alters national licensing standards




Piracy still plagues IT industry




China presses EU on market economy status




Official gets life term for corruption




Beijing addresses power shortage