Piracy still plagues IT industry
By Liu Baijia (China Daily)
Updated: 2004-06-29 23:49
Piracy remains a top concern for the Chinese industry, although there are signs of improvement, a report released Tuesday by government and industrial agencies in Beijing says.
According to the Development Environment Report on China's Software Industry, piracy is the third biggest factor hindering the development of Chinese software companies after a lack of capital and low technological and business management ability.
The report is based on a survey by the Intellectual Property Centre under the Ministry of Information Industry and the China Software Industry Association.
More than 230 software firms, 270 organizational users and 1,000 individual users participated in the survey.
Among the responding software companies, 14 per cent said piracy is a big problem, while only 7 per cent said international competition narrows the room for their development.
Almost 40 per cent of the firms are troubled by high piracy usage and the rest 63 per cent said piracy is not a serious problem for them.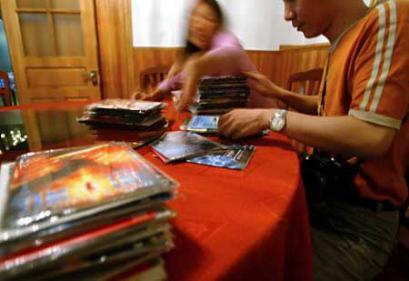 A vendor sells pirated DVDs to a customer at a restaurant in Beijing May 15, 2004. Hollywood films rule China's DVD market, where piracy makes the latest blockbusters available for about a dollar. [Reuters]


The survey shows 78 per cent of the organizational users buy their software from either companies or professional vendors.

However, Zhao Tianwu, director of the Intellectual Property Centre and a mastermind of the report, said the situation was not that optimistic.

"Many organizations just purchased several copies of software and then proliferate them for more users.''

On the individual side, the piracy rate is still quite high with only 27 per cent of the respondents buying authorized copies and the rest very likely using pirated copies.

Since the universal software targeted at consumers are those most suffering from piracy, more and more software companies have decided to withdraw from the market and turn to enterprise software or solutions.

The survey indicates only 9 per cent of software firms developing universal software, while the rest focus on enterprise or tailored software, bundled software with hardware, or develop Internet-based applications.

The good news from the report is that users' awareness is also improving.

About 60 per cent of the organizations surveyed agree that software procurement should account for more than 20 per cent of the spending on information technology systems.

Almost 70 per cent of the organizations have special departments in charge of software procurement and 72 per cent have special employees responsible for the administration of software.

Xu Chao, deputy director of the copyright department of the National Copyright Administration, urged government departments to set an example in using authorized software.

"When many local governments build grand office buildings, how can they say they do not have the budget for software?''




Today's Top News
Top China News

More HIV, AIDS cases expected in Henan




Law alters national licensing standards




Piracy still plagues IT industry




China presses EU on market economy status




Official gets life term for corruption




Beijing addresses power shortage