More HIV, AIDS cases expected in Henan
By Zhang Feng (China Daily)
Updated: 2004-06-29 23:49
Thousands more people are expected to be diagnosed with HIV/AIDS in Henan Province as officials push to finish their HIV screening process by the end of September for 180,000 farmers who took money from selling blood.
In a bid to make money, people in the province in Central China, mostly farmers, sold their blood to illegal blood stations and individuals in the early 1990s.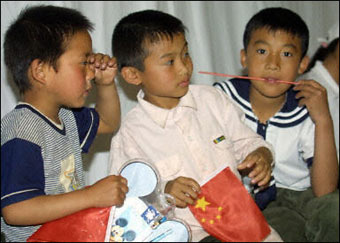 A group of Chinese children whose parents are suffering from HIV/AIDS visit a museum in Beijing. [AFP/file]


Tragically, many got more than they bargained for, contracting the deadly HIV virus. The equipment used to take blood was not sterilized.

More than 16,000 people in the province who sold blood have been diagnosed with HIV/AIDS.

However, this is only the tip of the iceberg, as tens of thousands of people who sold blood are yet to be screened for the disease.

For example, in the city of Zhumadian in Henan, only 30,000 of the 74,800 people who sold blood have undergone a HIV test, Vice-Health Minister Wang Longde said yesterday during a press conference held by the State Council's Information Office.

And the province is not isolated in terms of the dire impact of the illegal blood sales. Many other regions, such as Shanxi, Sichuan and Hubei provinces, have also witnessed pockets of poverty due to the rise of the disease.

Before 1994, due to the development of China, there were no requirements for hospitals or blood stations to screen for the HIV virus, Wang said.

Since the end of the 1990s, much attention has been paid to strengthening the management of donated blood and the construction of official blood stations that screen for diseases.

Now, intravenous drug use is the main channel for the spread of the virus, mainly though high-risk groups such as drug users, people who sell their blood and prostitutes.

Wang warned the disease was expected to spread from the high-risk groups to other residents in the future via sexual contact, if effective measures -- such as making condoms available in entertainment venues -- were not taken immediately.

Nationwide, nearly 90 per cent China's estimated 840,000 HIV carriers have not been diagnosed by doctors or health officials, which will allow the virus to further spread, experts have warned.

It means one of the priorities for governments at all levels is to find out who actually has the disease, which would assist in stopping it from spreading, said Ray Yip, director of the Beijing Office of the China-US AIDS Prevention and Care Project.

Moreover, the increasing number of AIDS patients is putting more of a strain on governments, which provide them with medical treatment.

Since 2003, the governments have been providing anti-virus medicine for all rural HIV/AIDS sufferers for free. Nearly 80 per cent China's HIV carriers live in rural and remote areas.

However, due to the poor medical services and under trained personnel at grassroots levels, many AIDS patients -- such as those in Henan Province -- have stopped taking their medicine, which creates a number of bad side effects.

The central government has greatly increased its investment in the control of disastrous disease in recent years, from 120 million yuan (US$15 million) in 2002 to 470 million yuan (US$57 million) this year.




Today's Top News
Top China News

More HIV, AIDS cases expected in Henan




Law alters national licensing standards




Piracy still plagues IT industry




China presses EU on market economy status




Official gets life term for corruption




Beijing addresses power shortage