Time for Chinese architects to come off the 'Eggshell'
(China Daily)
Updated: 2004-06-29 08:38
With Paul Andreu's "Eggshell" - the National Grand Theatre, still under construction in downtown Beijing, the National Stadium, dubbed the "Bird's Nest," designed by top Swiss architects Jacques Herzog and Pierre de Meuron, broke ground some 15 kilometres north of the "Eggshell" site.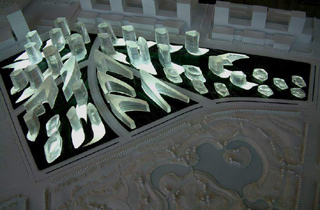 A model of the logistics hub designed by British architect Zaha Hadid for the southeast outskirts of Beijing. [China Daily]

To the east in the Central Business District, Ram Koolhass, a Dutch architect, won the bid for CCTV's new building, "Z-crisscross."

On the southeast outskirts of the capital, Zaha Hadid, a Baghdad born British woman architect, has joined hands with Pan Shiyi, one of the most successful real estate tycoons in China, to develop a logistics hub. The project is expected to be a huge complex of conference facilities, shopping malls, hotels, office buildings, theme parks and top-quality residential areas.

All big names in architecture circles, they are noted for their novel designs, use of new materials and high tech and their sky-scraping costs.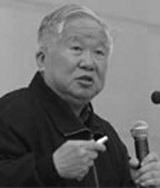 Wu Liangyong [China Daily]

Apart from these top architects, with their landmark projects in Beijing, many other architects from abroad have also been lured by the huge Chinese market. They are involved in either public buildings or residential developments, many of their jobs won through public bidding.

No matter whether famous or not, these foreign architects have also received their share of both praise and criticism. They have brought not only new designs to this country, but also heated debate: Does China really need foreign architects to design Chinese buildings?

A big cake

"China is now the largest construction site in the world. That makes us, as architects, excited," said Neil Leach, a professor of architectural theory at the University of Bath, UK, who attended a recent seminar on avant garde architecture at Tsinghua University.

At the seminar, initiated by the organizing committee of the first Architectural Biennial 2004 Beijing, 12 architects from both home and abroad presented their designs and shared views on avant garde architecture.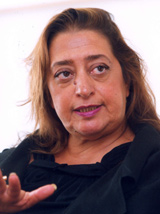 British architect Zaha Hadid [China Daily]

Starting from the early 1990s, foreign architects began to swarm into China to take part in the development of the Pudong New Area in Shanghai. Celebrated architecture firms such as AS&P, Atkins, OBERMEYER, RRP and SOM Planning submitted winning bids for some of the big projects in the new area. According to Beijing-based International Herald Leader, foreign architects took 30 per cent of the projects in Shanghai in the late 1990s. Following the 2008 Olympic fever, many of them moved to Beijing and won almost all the big public projects in the city.

According to the Beijing-based Architecture Journal there are now more than 120 foreign and joint architecture firms in China. Over 140 of the 200 top world engineering companies and design consortiums have set up branches in the country. Design contracts for a great number of landmark buildings in major cities have gone to foreign firms.

Like them or not, these buildings are being erected.

Controversial reaction

Much criticism centres on the one problem most new designs have: their failure to achieve a harmony with Chinese culture.

Consider, for example, the "Eggshell" next to Tian'anmen Square. Those who like it say it is unique and avant garde, and those against it call it a "dirty dropping" or "a tomb."

Paul Andreu has been accused of damaging the harmony of the area, which includes the Great Hall of the People and the Tian'anmen Rostrum. Forty-nine academicians of the Chinese Academy of Science appealed to the central government reconsider the design, but their request fell on deaf ears.

The heavy cost is another major point of dispute. According to a report from the International Herald Leader, the "Eggshell" costs are running way over original budget. The cost has reportedly increased from 2 billion yuan (US$241 million) to 5 billion yuan (US$603 million).

The whole construction area, including the theatre and a pool, now covers 260,000 square metres, 143,000 square metres more than in the original design.

The "Bird's Nest" has also exceeded its original budget of 3 billion yuan (US$362 million), escalating to 3.5 billion yuan (US$422 million). For the new CCTV "Z-crisscross," the cost is now expected to far surpass its original 5 billion yuan (US$603 million) estimate.

"I'm not against novel ideas, or unconventional or unorthodox designs, as that is what the art needs," said Wu Liangyong, one of the great contemporary Chinese architects.

"But we cannot put aside engineering and structure, we cannot overlook our culture, or the cost. China is not rich enough not to care about 5 billion yuan," Wu said.

"Some cities in China have become 'experimental sites' for both noted foreign architects and some second and third level ones," he said.

However, some disagree.

Wang Mingxian, an architecture critic, says: "We'd better first have a welcoming attitude towards these new things. City planning and historical protection must allow for a combination of old and new.

"We really wish that our Chinese architects were able to win the bidding for these landmark buildings. Unfortunately, they were not able to do so," Wang said. "Why should we reject these great architects whose previous experiments have been recognized in international architecture circles," he said, adding that their experiments in China offer more benefits than harm to the evolution of Chinese architecture.

Among those architects who have come to Beijing, Koolhaas was the recipient of the Pritzker Architecture Prize for 2000, the foremost authoritative prize in the field of architecture; Jacques Herzog and Pierre de Meuron won the prize in 2001; and Zaha Hadid was the winner in 2004.

Fei Qing, a New-York based Chinese architect, said: "From the point of view of Chan (the Chan Sect of Buddhism, known in the West by the Japanese name Zen, which emphasizes simplicity, spontaneity and self-expression), putting unrelated things together might produce something new."

"When the East meets the West; traditional concepts give in to modern ones, and vice versa. The two might compromise. This can happen in every art form, including architecture."

But Luo Li, secretary general of the first Architectural Biennial Beijing 2004, pointed out that to improve the ability to judge beauty, or in other words, to judge art and culture as a whole, is crucial for decision-makers, architects, developers and ordinary people alike.

"For quite a long time, we have lagged behind in art education," Luo said, adding that in designing a new building city planners must keep in mind the unique local cultural fabric of their city.

"What is most important is not to let new buildings break the cultural line," she said. "We must encourage foreign architects to deepen their understanding of Chinese culture before they work on projects in China."

Chinese architects

The failure of local architects' bids for some major projects has not only revealed the inferiority of architectural education in China, but also the dilemma Chinese architects face.

Architectural education in the modern sense started late in China, in the early 20th century, and failed to keep abreast of changes because of the country's closure of its doors to the outside world from the 1950s to the 1970s, when the world of architecture was experiencing dramatic development in ideas, design and technology.

Zhang Yonghe, a noted Chinese architects, once said that Chinese architects have been trained in classicism and are more concerned with form and style in design.

"I have to admit that Chinese architects cannot compete with their foreign counterparts when it comes to imagination and design," said Dou Yide, deputy chairman of the China Architecture Society, who has worked as a jury member for many international bidding competitions during the past years. "Most of them know very little about new materials and new technology, which has badly limited their creativity and imagination," he said.

However, Chinese architects complain that many developers have blind faith in foreign designs.

Cui Kai, one of the top young architects in China, in his late 40s, complains about the imbalance in design charges. "Many developers know nothing about domestic architects," said Cui, who has won many awards in design including his "See and Seen" villa for the Commune by the Great Wall. Together with 11 other architects, Cui won a special prize at La Biennale di Venezia in 2002.

Cui said that in a joint project, the developers usually pay two-thirds of the bill to the foreign firms, leaving only one-third, or even less, for the domestic designers who have usually done much more of the work than their foreign counterparts.

Some top Chinese architects have to work for some foreign firms that don't have enough designers to handle all the projects they are involved in. All the foreign designers do is signing their names on the final sketches.

The experience of Cui Hongbing, a Shanghai architect, is a good example. Once when he was on a jury assessing international bids for the renovation of a downtown area in Shanghai, he was confused by four plans. Though coming from four different countries, the proposed plans shared the same space and planning concepts used at Tongji University in Shanghai.

After hearing the presentations of the leading designers, Cui got the answer - all four of them were graduates from Tongji University and one had even been his classmate.

Guan Zhaoye, a noted Chinese architect, also a professor from Tsinghua University, urged giving more opportunities to Chinese architects. Only when they are given more chances, he says, can they demonstrate their abilities.

"Chinese architects should improve their own abilities instead of complaining," said Wu Huanjia, a professor from Tsinghua.




Today's Top News
Top Life News

`Five Principles' guiding national relations turn 50




Iraqi militants kill US soldier hostage




EU refuses to grant China market economy




Priority given to heritage protection




China overtakes US as investment target




Extreme weather slams country