China, Argentina sign co-op agreements
By Sun Shangwu (China Daily)
Updated: 2004-06-29 00:36
China and Argentina signed five agreements Monday in Beijing to bolster their relationship, which is an important component of Argentine President Nestor Kirchner's six-day state visit to China.
The five documents cover such sectors as civil aviation transportation, co-operation in public health and medical sciences, cultural co-operation, investment and agriculture.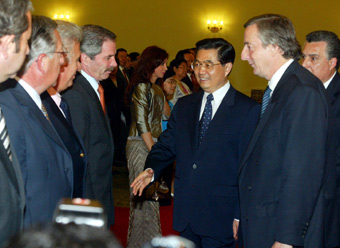 Chinese President Hu Jintao (C) extends a warm welcome to Argentina's President Nestor Kirchner (R) and his entourage Monday in Beijing. [newsphoto]


President Hu Jintao and his Argentine counterpart attended the signing ceremony after concluding bilateral talks.

During their meeting, Hu put forward a four-point proposal to boost the "sustained, stable and deep" development of bilateral ties, according to the spokesperson of the Foreign Ministry.

The two countries should keep high-level contacts to inject vitality into bilateral relations, said Hu.

Economic and trade ties should be strengthened, with agriculture and animal husbandry as the priority, he added.

And peoples of the two countries should also expand their exchanges, while the two countries should increase their co-ordination and co-operation in international bodies such as the United Nations, the World Trade Organization and the Forum for East Asia and Latin America Co-operation, said Hu.

Kirchner said the economies of the two countries are strongly complementary and enjoy great potential.

He said Argentina will continue to abide by the one-China policy and consolidate bilateral ties in various sectors.

The Chinese President expressed appreciation for Argentina's support for China in the questions of Taiwan and human rights.

Hu said that China attaches importance to its relations with the South American Common Market.

The market was initiated by presidents of Argentina, Brazil, Paraguay and Uruguay in March 1991. It went into operation at the beginning of 1995.

The establishment of this common market is aimed at promoting economic integration in Latin America.

Hu said China is willing to make joint efforts with the members of the common market to expand their partnership.

While Kirchner said that the members of the common market hope to work with China to bring benefits to all countries.

Kirchner arrived in Beijing on Sunday morning at the invitation of President Hu.

He is scheduled to meet Chinese top legislator Wu Bangguo and Premier Wen Jiabao today and then tour Shanghai.




Today's Top News
Top China News

Priority given to heritage protection




'Five Principles' turn 50 years old




Extreme weather slams country




A farewell to two zoos?




Wetlands key to nation's development




China, Argentina sign co-op agreements