US transferred sovereignty to Iraq ahead of schedule
(Agencies)
Updated: 2004-06-28 15:14
The US-led coalition transferred sovereignty to an interim Iraqi government Monday, speeding up the move by two days in an apparent bid to surprise insurgents who may have tried to sabotage the step toward self rule.
Legal documents handing over sovereignty were handed over by US governor L. Paul Bremer to interim Prime Minister Iyad Allawi in a small ceremony attended by about a half dozen Iraqi and coalition officials in the heavily guarded Green Zone.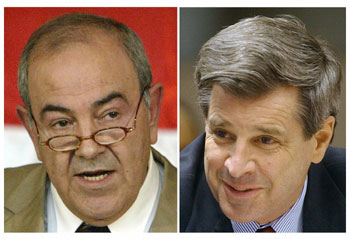 Combination file photos of Iraq's interim Prime Minister Iyad Allawi (L) June 24, 2004 and U.S. administrator Paul Bremer (R) June 27, 2004. The formal handover of sovereignty to an interim Iraqi government has been brought forward two days to Monday, a coalition source said June 28, 2004. The U.S.-led coalition had initially been expected to hand over to an interim Iraqi government on June 30. [Reuters]
"This is a historical day," Allawi said during the ceremony. "We feel we are capable of controlling the security situation."
Bremer will leave Iraq sometime Monday, coalition officials said on condition of anonymity.
Although the interim government will have full sovereignty, it will operate under major restrictions _ some of them imposed at the urging of the influential Shiite clergy which sought to limit the powers of an un-elected administration.
The new government's major tasks will be to prepare for elections by Jan. 31, handle the day to day running of the country and work along with the US-led multinational force, which is responsible for security. The Iraqis can in principle ask the foreign troops to leave _ although it is unlikely this will happen.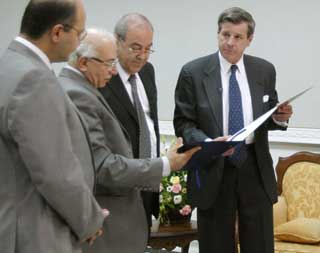 U.S. administrator Paul Bremer (R) flanked by Iraqi interim Prime Minister Iyad Allawi (2nd R) hands a letter to Iraq's most senior judge Midhat Mahmoud sealing the transfer of powers during a ceremony in the capital Baghdad June 28, 2004. The United States transferred sovereignty to an interim Iraqi government on Monday, formally ending the controversial 14-month occupation two days earlier than expected. [Reuters]

However, the United States and its partners hope that the transfer of sovereignty will serve as a psychological boost for Iraqis, who have been increasingly frustrated by and hostile to foreign military occupation. US officials hope that Iraqis will believe that they are now in control of their country and that will take the steam out of the insurgency.

The ceremony took place in a formal room with Louis XIV furniture in an office in the building formerly used by the Iraqi Governing Council. Officials were seated in guilded chairs around a table, in the center of which was a bowl of flowers with a small Iraqi flag in it.

Just before the handover occurred, everyone stood up, and documents were passed to the Chief Justice Midhat al-Mahmoudi at 10:26am (06:26GMT)_ at that point, legal sovereignty was passed.

Brig. Gen. Mark Kimmitt, the coalition deputy operations chief, was the only US military official present.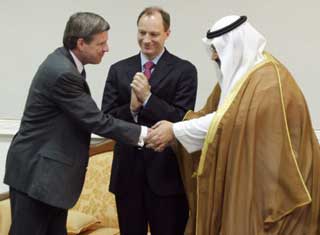 U.S. administrator Paul Bremer (L) shakes hands with Iraq's interim President Ghazi al-Yawar, as Bremer's deputy David Richmond (C) applauds, during a ceremony marking the transfer of authority to Iraq in the capital Baghdad June 28, 2004. [Reuters]

Bremer sat on the couch with Allawi and President Ghazi al-Yawer.

"We'd like to express our thanks to the coalition," al-Yawer said. "There is no way to turn back now."

Bremer, wearing a dark suit and a blue tie with small white dots, read the transfer document, which was inside a blue folder. With a laugh, he referred to himself as the "ex-administrator of the Coalition Provisional Authority."

Allawi stood on his right and al-Yawer on his left.

"The Iraqi government is determined to hold elections at the scheduled date, which is January next year." Allawi said in Arabic. He had told the US television network CBS that the election might be delayed if the security situation did not approve.

In Istanbul, Turkey, where President George W. Bush and other leaders were attending a NATO summit, the US administration said it was pleased by the early transfer and said it was a proud day for the Iraqi people.

Coalition officials said Bush had already sent a letter to al-Yawer formally requesting diplomatic relations.

"You have said, and we agreed, that you are ready for sovereignty," Bremer said in the ceremony. ``I will leave Iraq confident in its future.''

Allawi said he requested that the sovereignty be transferred earlier, reflecting a preference to have Iraqis control their own destiny as soon as possible. Last Thursday, the coalition transferred the final 11 of the 26 government ministries to full Iraqi control, meaning Iraqis were already handling the day to day operations of the interim administration.

Bremer went on a series of farewell visits to areas throughout the country over the past few days.

With the transfer, the Iraqis now face the daunting task of securing law and order with the help of about 135,000 US troops and about 20,000 more from other coalition countries.

"We have been laying down strategies for protecting our people," Allawi said after the ceremony, adding that he would spell out details at a news conference later.

"The blood that has been spilled in Iraq has been spilled for a very good reason," Allawi said, explaining that it was in the cause of democracy and freedom.




Today's Top News
Top World News

Iraq sovereignty handover completed




Rules to target 'irresponsible' officials




Iraqi group threatens to behead US Marine




Proof sought to sue Japan over WWII weapon




Wu vows opener economic system




Lightning hits trees, kills 17 in Zhejiang