Croatia puts 'family jewels' under hammer
(Agencies)
Updated: 2004-06-28 14:50
"For sale! Island in the Sibenik archipelago, partly under pine trees, pebble beach, three million dollars."
That is one of about 20 advertisements being circulated by Croatia's real estate agents for the small islands off the Adriatic coast, known as the Balkan country's "national jewels."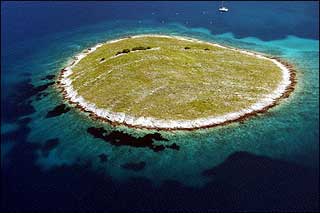 An aerial view of one of Croatia's small islands which were put on sale to attract foreign investors wishing to get their own little piece of Mediterranean paradise. [AFP]

Agents say foreign investors are flocking to acquire a little piece of the paradise isles as the country's tourism industry booms to levels not seen since the former Yugoslav republic's 1991-95 independence war.

"Foreign interest in buying property in Croatia, including the small islands, suddenly grew two years ago. Until then foreigners did not believe this was a market worth investing in," real estate agent Jasminka Biliskov told AFP.

Property prices have rocketed on Croatia's 1,800-kilometre (1,112-mile) Adriatic coast, one of the most picturesque parts of Europe and the centrepiece of the country's lucrative tourism industry.

But the market is still recovering from the shock of war, and many believe the islands are good value compared to similar properties in other parts of the world.

Almost 80 percent of island buyers are foreigners, Biliskov said. Britons top the list, followed by Hungarians, Swedes, Norwegians and Germans.

Biliskov's agency currently has seven islands on its books and recently sold Smokvica, near the central Adriatic town of Primosten.

Smokvica, with a total surface area of some 36,000 square meters (387,360 square feet) completely under pine trees, was bought last year by a local company which is planning to build a botanical garden there. It reportedly fetched 1.6 million euros (1.9 million dollars).

Croatia has more than 1,100 islands, islets and reefs. Most are small and uninhabited and the few which are privately owned have been handed down through generations of families.

Currently there are some 20 islands on sale with prices ranging from five to 40 euros per square meter. Five have been sold so far.

But Croatian law bans new construction on small islands, allowing only reconstruction of the existing buildings, predominantly small stone stables.

The law also defines a protected maritime area extending at least six meters (20 feet) from the shoreline, which belongs to the state and on which no title can be obtained.

The state is also planning to reserve exclusive rights to buy islands within 90 days of their being offered for sale.

"Buyers are hoping that once Croatia enters the EU the legislation will change and construction will be allowed. However, it should be strictly conditioned, defined and controlled," Biliskov said.

The law should enable construction of small, traditional Mediterranean-style stone houses, she said.

But despite the legal complications, Croatian islands have the advantages of being relatively cheap, unspoilt and close to Europe.

"The most important thing is that the landowners realize that they are in possession of the 'family jewels' of the Adriatic, a heritage of priceless value," Tourism Minister Bozidar Kalmeta said.

He complained that the islands were being offered for a "trifle compared to world prices."

But Biliskov said Croatia's islands would not be bargains for long.

"The prices of real estate in Croatia are booming now and show a tendency to continue like that," she said.




Today's Top News
Top World News

Iraq sovereignty handover completed




Rules to target 'irresponsible' officials




Iraqi group threatens to behead US Marine




Proof sought to sue Japan over WWII weapon




Wu vows opener economic system




Lightning hits trees, kills 17 in Zhejiang