McCartney Rocks Glastonbury Festival
By Mccartney show (Agencies)
Updated: 2004-06-27 16:31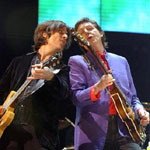 Paul McCartney capped a day of music and rain at the Glastonbury music festival June 26,2004, taking the stage to cheers from tens of thousands of damp but enthusiastic fans.
The 61-year-old former Beatle opened his set with "Jet," a hit from his time with Wings. The gig, which ends McCartney's monthlong European tour, was McCartney's first appearance at Britain's leading summer music festival.
More than 100,000 music fans endured several hours of rain on the second day of the three-day event Saturday. Many went barefoot or donned bright Wellington boots, and some slathered themselves in mud, as the tent-crowded rural site in southwest England was churned into a soupy stew.
Glastonbury was first held in 1970 on Michael Eavis' Worthy Farm near Pilton, 120 miles southwest of London. The festival was canceled in 2001 after crime and crowd control problems a year earlier, and reinstated in 2002 with tightened security, including a 12-foot steel fence around the 900-acre site.
Police said they had made 91 arrests by Saturday; there were 83 percent fewer reports of robbery and 80 percent fewer assaults than last year.
A 24-year-old man died of a suspected drug overdose, and two women were being questioned by police on suspicion of supplying the drugs.
This year's festival also includes performances by the Black Eyed Peas, Scissor Sisters, Basement Jaxx, Joss Stone, Jamie Cullum and Oasis — and, for the first time in the event's history, opera. The English National Opera was scheduled to stage the third act of Wagner's "The Valkyrie" at the festival on Sunday.
The festival ends Sunday with performances by James Brown, Morrissey and Muse.
Today's Top News
Top Life News

Death toll rises to 40 in attack in Iraq




Three Turks Held in Iraq; Blast Kills 19




China's insurance assets total 1 trillion yuan




Dozens of drug dealers executed in China




Hotlines hear human rights complaints




Shenzhen to recruit 3,000 HK professionals