Lightning kills 15, injures 15 in E. China
(Xinhua)
Updated: 2004-06-27 14:26
Fifteen villagers were killed on Saturday in a lightning strike tragedy in Taizhou, a seaside city in east China's Zhejiang Province, local officials said Sunday.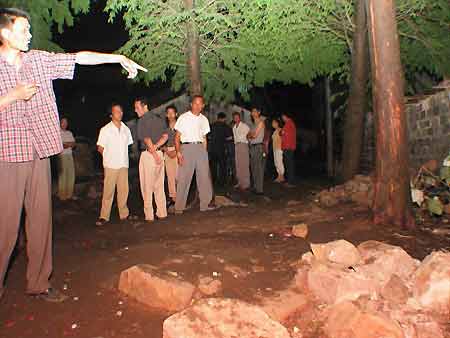 A villager points at the mark left by the deadly lighting on a tree. [sina]

Another 15 were injured, and two of them remained in critical condition. Experts have warned the local people to take proper measures to avoid such accidents in this thunderstorm season.

During the thunderstorm Saturday afternoon, more than 30 local villagers gathered in a makeshift shelter built under five big trees, the tallest thing nearby.

The lightning stroke the shelter and people within, killing 11 instantly and four others died in hospital.

Experts said Zhejiang is one of the provinces with frequent thunder and lightning activities, and people should be careful in the thunderstorm season, avoiding staying outdoors or under tall trees.




Today's Top News
Top China News

Death toll rises to 40 in attack in Iraq




Three Turks Held in Iraq; Blast Kills 19




China's insurance assets total 1 trillion yuan




Dozens of drug dealers executed in China




Hotlines hear human rights complaints




Shenzhen to recruit 3,000 HK professionals