Death toll rises to 40 in attack in Iraq
(Xinhua)
Updated: 2004-06-27 10:22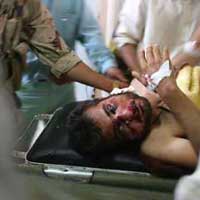 Medical staff of an emergency hospital gather around Hemin, A badly injured bodyguard to a culture minister in the Northern Iraq Kurdish regional government is treated following a car bomb blast in Arbil June 26, 2004.

Explosions that rocked the center of the predominantly Shiite Muslim city of Hillah killed 40 people and injured 22, the military said Sunday.

The blasts, which occurred at about 8:45 p.m. Saturday near the former Saddam Hussein mosque, may have been caused by a pair of car bombs, a military official said on condition of anonymity.

"Our estimates now are that 40 people were killed in last night's blasts and 22 were injured," the official said Sunday.

Earlier, the military had said 19 Iraqi civilians were killed and as many as 40 civilians were injured.

The violence came just days after insurgents launched a coordinated wave of attacks across the country. The attacks, which left 100 dead, were aimed at undermining confidence in the interim Iraqi government, which is set to take power Wednesday.




Today's Top News
Top World News

Death toll rises to 40 in attack in Iraq




Three Turks Held in Iraq; Blast Kills 19




Pakistani PM resigns, dissolves cabinet




Dozens of drug dealers executed in China




Hotlines hear human rights complaints




Shenzhen to recruit 3,000 HK professionals