US airstrike kills up to 25 in Fallujah
(Agencies)
Updated: 2004-06-26 09:00
U.S. warplanes bombed a suspected guerrilla safe house in Iraq on Friday, stepping up a hunt for Jordanian militant Abu Musab Zarqawi who has been blamed by Washington for a series of deadly attacks.
"Somewhere between 20 and 25 people were killed in today's strike," said a U.S.-led coalition official, who declined to be named. No details on who was killed were immediately available.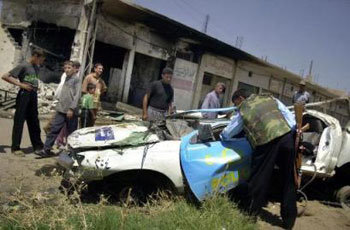 An Iraqi policeman inspects a destroyed police car in Mosul, Iraq Friday, June 25, 2004, a day after a car bomb destroyed the police station there. [AP]

The U.S. military said the house in the restive town of Falluja, some 30 miles west of Baghdad, was a "known Zarqawi network safe house" and was destroyed in the daylight strike, the third on suspected Falluja safe houses this week.

"This operation employed precision weapons to target and destroy the safe house and underscores the coalition's continuing resolve...to completely destroy terrorist networks," Brigadier General Mark Kimmitt said in a statement.

Falluja residents said the house, in the southeast of the town, was reduced to rubble.

Washington, due to hand over to an interim Iraqi government on June 30, accuses Zarqawi of links to al Qaeda and says he has masterminded a number of major attacks, as well as being responsible for the beheading of an American and a South Korean.

Militants in Falluja issued a statement on Friday denying Zarqawi was holed up in the town.

THREE IRAQI POLICEMEN KILLED

Guerrillas killed three Iraqi policemen in an attack with rocket-propelled grenades on a police station near the town of Baquba, north of Baghdad.

Some of the black-clad gunmen, who also attacked government buildings, proclaimed loyalty to Zarqawi and wore yellow headbands linking them to his militant group.

Zarqawi threatened in a message on an Islamist Internet site on Wednesday to assassinate Iraqi Prime Minister Iyad Allawi.

The prime minister and other top members of the interim government warned guerrillas on Friday that Iraq's fledgling security forces, backed by the U.S.-led coalition, were determined to crush them.

Allawi blamed foreign fighters and Saddam Hussein supporters for killing more than 100 people in suicide bombings and other attacks on Thursday.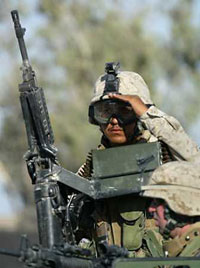 Lance Cpl. Marcos Ramirez with the 2nd Battalion of the US 1st Marine Division scans buildings for insurgents at a traffic control post in Falluja, June 25, 2004. [Reuters]

"We are going to defeat them... We have been expecting this escalation and we are expecting more escalation in the days ahead," Allawi told reporters.

"SHOWDOWN TIME"

Defense Minister Hazim al-Shalaan said: "Today is the day for the Iraqi people to say to these traitors that the time has come for a showdown, and God willing that showdown will be big and victory will be for us, the people."

A multinational force of 160,000 mostly U.S. troops will stay to support Iraqi forces after June 30.

In a blow for President Bush as he campaigns for re-election in November with Iraq high on the agenda, a USA Today/CNN/Gallup opinion poll showed most Americans now say the U.S.-led invasion was a mistake.

Fifty-four percent thought the invasion had been a mistake, compared with 41 percent three weeks ago.

EU OFFICIAL DELIVERS WARNING

Bush arrived in Ireland on Friday to a warning from a top European Union official that violence could break Iraq apart within months and that an EU role in reconstruction and election planning would be limited if security did not improve.

EU External Relations Commissioner Chris Patten had little to offer but moral support as Bush launched his second European mission this month seeking international help with Iraq, before traveling to a NATO summit in Istanbul on Monday and Tuesday.

"All of us are worried that violence could lead to Iraq flying apart in the next few months," Patten told reporters.

NATO countries struck a tentative deal on an agreement to help the interim government train its security forces after hours of wrangling over the wording, diplomats said.

"We've agreed it, we've agreed on it tentatively," one diplomat said in Brussels at a meeting of ambassadors from the 26 member states prompted by a request from Allawi.

He said member states would have until 6 a.m. EDT on Saturday to raise objections, after which the wording of a statement to be released at the NATO summit in Istanbul would be deemed to have been adopted.

NATO's role in Iraq will be a far cry from the deployment of troops originally sought by Washington that was shot down by opposition from France and Germany, fierce opponents of last year's invasion.




Today's Top News
Top World News

Fire caused by lightning rages in northern forests




Dozens of drug dealers executed in China




US arms sales to Taiwan sparks tension




Israel's deputy PM visits father's Harbin grave




China has a surplus of poor-quality MBA




Poor school kids get letter from Blair