Fire hits northern forests
(Xinhua)
Updated: 2004-06-26 00:17
Forest fires caused by lightning are spreading in virgin forests in North China's Greater Khingan Range, firefighters said Friday.
More than 1,000 police officers are fighting fires on the mountain, a major base of China's virgin forest reserve.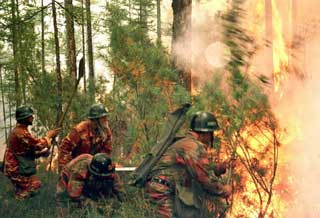 Firefighters race against time to extinguish forest fires spreading in the virgin forests in Inner Mongolia Autonomous Region June 25, 2004. The fire, first reported on Tuesday in the Daxing'anling Mountain range, has spreaded and up to 1,000 armed police have joined the battle. It is reported that the fire was started by lightning. [Xinhua]

There is a total of 10 separate hot spots that are expanding to larger areas, according to the police.

High temperatures and dryness since late May are posing great fire risks. Continuing lightning that began in mid-June is hitting dry, withered trees and causing fires, police said.

Helicopters are being used to take firefighters to fire sites which are mostly located in dense woods far inland.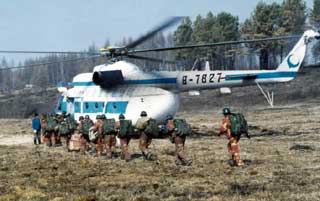 Firefighters are sent to the frontline by helicopter. [Xinhua}


An additional 400 police officers were mobilized Friday morning and were to be sent to join in efforts to extinguish fires later in the day, police said.

The Greater Khingan Range had suffered several big fires in recent years.

In May last year, a big fire occurred in the range, destroying more than 30,000 hectares of virgin forest.

And in May 1987, the biggest fire in China since 1949 broke out in the Greater Khingan Range. It killed 193 people, destroyed 1 million hectares of virgin forest and burnt down 614,000 square metres of houses.

Fire prevention work in China's forests has always been a focus of fire-control departments.

In the April this year, the State Council released a specification for forestry fire-control.

The State Forestry Administration subsequently held a national meeting on forestry fire-fighting, which required the fire-fighting headquarters and related departments at all levels to be always in a state of preparedness for fire-fighting.




Today's Top News
Top China News

Death Toll Rises to 40 in Attack in Hillah




Fire hits northern forests




Three Turks Held in Iraq; Blast Kills 19




Pakistani PM resigns, dissolves cabinet




Dozens of drug dealers executed in China




Hotlines hear human rights complaints