Two US marines killed in Afghanistan
(Agencies)
Updated: 2004-06-25 22:37
Two U.S. Marines were killed and another was wounded in an attack in a region of eastern Afghanistan plagued by Taliban-led insurgents, the military said Friday.
The attack occurred late Thursday in Kunar, a province on the border with Pakistan, military spokeswoman Master Sgt. Cindy Beam said. The attack occurred northeast of Asadabad, which is 120 miles east of the capital, Kabul.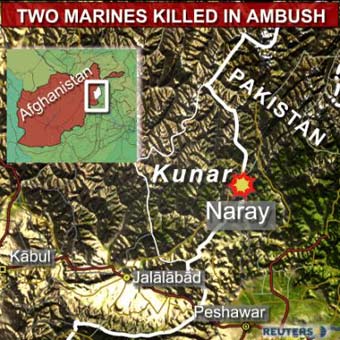 Two U.S. Marines were killed and one wounded when their patrol was ambushed during an operation against Islamic militants in eastern Afghanistan, military officials said on June 25, 2004. The Marines were killed in Kunar province, which borders Pakistan, on Thursday evening. [Reuters]


Beam did not provide any more details on the incident or the condition of the wounded soldier.

U.S. troops based in Asadabad regularly come under fire from militants. But the attacks with rockets and small arms rarely cause casualties.

The province is one of several across the south and east of the country plagued by insurgents. The U.S. military says it has killed more than 80 militants in the past month.

There are about 20,000 soldiers — most of them Americans — fighting in Afghanistan. At least 92 American soldiers have been killed since the United States invaded Afghanistan in late 2001 to oust the Taliban for harboring Osama bin Laden and his al-Qaida terror network.

The chief of Kunar police, Matiullah Safi, said American warplanes had flown over Asadabad on Thursday and helicopters bombarded a mountain about four miles away. He did not have any more details.

The United States has vowed to crush militants this year with a combination of stepped-up military operations and reconstruction aid to Afghan villagers, who commanders hope will provide crucial intelligence on enemy movements.

But the military has been unable to halt violence that has killed more than 500 people so far this year, threatening plans to hold national elections in September.

Workers helping organize those elections have been targeted with roadside bombs. In May, an explosion hit a car carrying Afghan election workers in Kunar province, injuring all four people inside, two of them seriously.




Today's Top News
Top World News

Fire caused by lightning rages in northern forests




Dozens of drug dealers executed in China




US arms sales to Taiwan sparks tension




Israel's deputy PM visits father's Harbin grave




China has a surplus of poor-quality MBA




Poor school kids get letter from Blair