U.S. critics laud Moore film
(Agencies)
Updated: 2004-06-25 11:12
US critics have applauded Michael Moore's anti-George W. Bush documentary Fahrenheit 9/11, praising its scathing humour while voicing some reservations about the director's methods.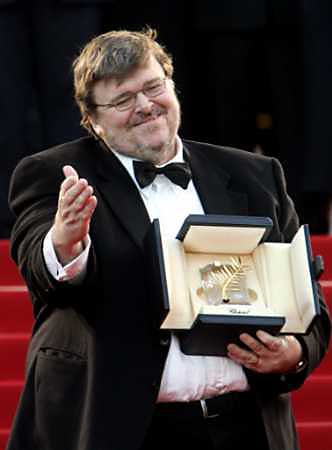 Michael Moore's anti-Iraq war crusade is not stopping with President Bush as the filmmaker says he now wants to make a movie about British Prime Minister Tony Blair's role in the war. Moore, director of the controversial documentary which last month won top prize at the Cannes film festival, said on Friday that he now wants to take a close look at the British leader's role in backing the war in Iraq and sending troops into harm's way. Moore is shown at the Cannes Film Festival, May 23. [Reuters]

The first reviews hit the press yesterday as rival political activists mobilised to either boycott the film or turn out in droves for its US-wide opening today.

"Informative, provocative, frightening, compelling, funny, manipulative and, most of all, entertaining," USA Today declared in a gushing review of Moore's polemic against the US President and the war in Iraq.

"Fahrenheit 9/11 is the year's must-see film," the US's biggest-circulation daily added, while questioning whether its unabashed bias would do anything to change voters' minds in a polarised electorate.

While acknowledging that Moore's latest piece of agitprop, which won the Palme D'Or at the Cannes film festival, could be "nitpicked and second guessed", The Los Angeles Times labelled it an "overwhelming film" and "a landmark in American filmmaking (that) demands to be seen".

"It is propaganda, no doubt about it, but propaganda is most effective when it has elements of truth, and too much here is taken from the record not to have a devastating effect on viewers."

The New Yorker magazine found the film "incendiary and viciously funny" and "Moore's most powerful movie ĘC the largest in scope, the most resourceful and skillful in means."

But it also questioned Moore's objectivity and his method of deluging the audience with allegations that are often difficult to sort out and evaluate.

"Fahrenheit 9/11 offers the thrill of a coherent explanation for everything, but parts of the movie are no better than a wild, lunging grab at a supposed master plan," the magazine said.

Moore has made no bones about his motive for making the film. "I would like to see Mr Bush removed from the White House," he said last week.





Today's Top News
Top Life News

Minister: China deserves market economy status




Grain yield to end years of decline




Iraq attacks kill over 100, wound 320




SARS vaccine shows promising results




Investigation: Boat tragedy 'avoidable'




Probe-2 satellite headed for July orbit