Bombs explode in Turkey before Bush, NATO summit
(Agencies)
Updated: 2004-06-25 08:50
Bombs exploded in Turkey's two main cities on Thursday before a visit by U.S. President Bush to Ankara and a NATO summit in Istanbul, killing four people and injuring at least 18 others.
The White House said there would be no change to Bush's schedule despite the blasts.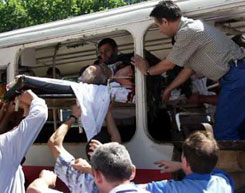 An injured person is carried on a stretcher through the shattered window of a city bus after an explosion inside the vehicle in Istanbul June 24, 2004. Bombs exploded in Turkey's two main cities on Thursday before a visit by U.S. President George W. Bush to Ankara and a NATO summit in Istanbul, killing four people and injuring at least 13 others. [Reuters]

Istanbul Governor Muammer Guler told reporters the bomber in the commercial capital of Istanbul was an unidentified woman carrying the device in her lap when it exploded on board a bus outside a hospital in the mainly residential Fatih district.

"The bus was not the target. The bomb was being carried from one place to another ... We suspect a Marxist-Leninist group."

The blast killed three people immediately, including the bomber, and injured 15, said surgeon Korhan Taviloglu at the hospital treating casualties. A woman died later in hospital.

Police detained three suspects in connection with the bus explosion, Anatolian news agency said, adding a female suspect was believed to have been on the bus when the explosion hit.

A small explosive device went off earlier on Thursday outside the Hilton Hotel in Ankara where Bush is due to stay on Saturday before he leaves on Sunday for Istanbul.

A leftist group called MLKP-FESK claimed responsibility for that explosion, one television station said. Ankara police chief Ercument Yilmaz told CNN Turk two policemen and an unidentified third person were injured.

The Istanbul explosion exacerbated security concerns in financial markets, sending the dollar reeling against the Swiss franc and boosting demand for safe-haven government bonds.

The Turkish government, which hosts the NATO summit in Istanbul on June 28-29, offered swift reassurance after the Ankara explosion that security for the summit was adequate.

"Turkey is a sufficiently strong and secure country. Such incidents happen everywhere -- in London, in Paris, everywhere," Foreign Minister Abdullah Gul said.

David Claridge, an analyst with Janusian Security Risk Management in London, said militants would see it as a big victory if they could force Bush to cancel his visit.

"The worrying concern is this may be one of a series of attacks planned over the next few days," he said.

MASSIVE SECURITY

The bomb struck Istanbul while the government met the military leadership at a regular National Security Council meeting, where generals wield influence over elected officials.

"We examined the country's general security in light of reactionary and separatist activities," a statement at the end of the meeting said, adding they also focused on the summit.

Turkey has taken drastic security precautions in Istanbul, fearing a repetition of four devastating truck bombs in November that killed more than 60 people. Al Qaeda claimed responsibility for those attacks which targeted Jewish and British sites.

Authorities on Thursday carried out controlled explosions of suspicious packages in Ankara and near the summit area in Istanbul. In the western town of Yalova, bomb disposal experts destroyed a bag containing a home-made pipe bomb.

After the blast, Istanbul police began spot-checks around the city, including at bus and train stations and shopping centers, witnesses said.

"There have been other blasts today but it might be wrong to connect this to the summit," police chief Celalettin Cerrah told reporters at the scene of the Istanbul blast.

Home-grown groups, including Islamists, far-leftists and Kurdish separatists, have struck in Turkey in the past.

Bush is due to spend Saturday night in Ankara before talks on Sunday with Prime Minister Tayyip Erdogan and President Ahmet Necdet Sezer. He flies to Istanbul on Sunday to attend the summit with 40 other world leaders.

AWACS surveillance planes will patrol above the city of 10 million people and 24,000 officers will police the streets.

The Bosphorus straits, a key shipping lane, will be closed to oil tankers, the underground rail system will be suspended and whole districts will effectively be sealed off.

After the Ankara blast, NATO Secretary-General Jaap de Hoop Scheffer said he was satisfied with Turkey's security measures.

"It's a heavy responsibility for our Turkish hosts but they are doing everything they can."

Turkish officials say they expect large demonstrations in Ankara, Istanbul and other cities in the coming days against both Bush's visit and the NATO summit.




Today's Top News
Top World News

Minister: China deserves market economy status




Grain yield to end years of decline




Iraq attacks kill over 100, wound 320




Investigation: Boat tragedy 'avoidable'




Probe-2 satellite headed for July orbit




New rules unveiled for clean projects