Ping An debuts well in HK
By Roy Chew (China Daily)
Updated: 2004-06-25 07:39
The mainland's second largest life insurer, Ping An Insurance, made its debut yesterday, closing at HK$10.4 (US$1.33), up HK$0.07 or 0.678 per cent, slightly above its initial offer price of HK$10.33 per share.
Despite a strong market rally in China which saw the H-share index up by 5.36 per cent to close at 4,188.58, Ping An was not able to reap big gains. As predicted by analysts, investors were less than satisfied with the stock's high valuation.
However, Ma Mingzhe, chairman and chief executive officer of Ping An, was not too upset by the stock's closing price. "There are ups and downs. Ping An is a long-time investment," he said in Hong Kong yesterday.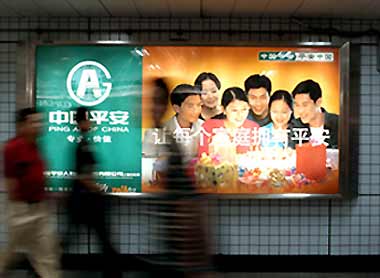 A passenger walks past an advertisement board of Ping An Insurance. [newsphoto/file]

With its listing, Ma said the company has done more risk management and is confident that Ping An is moving in the right direction.

"Ping An is a responsible company," said Ma.

With the announcement that will allow mainland insurers to invest overseas, Ma is confident that insurance companies could take the chance to further diversify their businesses in the future. However, as the plan is still under consideration, Ping An remains open on the issue.

"We are very concerned about overseas investment policies that the mainland government will take towards the insurance industry, but our company is well-prepared," Ma said.

Louis Cheung, Ping An's chief operating officer, said that Ping An has performed well in the first five months of this year and remains confident that the company will reach its full-year profit target of 2.76 billion yuan (US$332.5 million).

"Our current and future growth depend on a steady business strategy which the company has adopted," he said.

HSBC currently holds 10 per cent of Ping An and under provisions for China's accession to the WTO, foreign non-life insurers will be permitted to establish branches or as a joint venture with 51 per cent foreign ownership. Within two years after China's accession, foreign non-life insurers will be permitted to establish as a wholly-owned subsidiary, that is, with no form of establishment restrictions. Upon accession, foreign life insurers will be permitted 50 per cent foreign ownership in a joint venture with the partner of their choice.

"Because of this, the possibility of HSBC increasing its stakes in Ping An cannot be ruled out," said Marco Mak, head of research at Tai Fook Securities, adding that "investors should take Ping An as a long-term investment."

A total of 192.01 million Ping An shares were traded yesterday in the price range of HK$10.30-10.55 per share, with a turnover of HK$2 billion (US$256 million).

The company offered a total of 1.388 billion shares for the IPO, of which 95 per cent was placed internationally and the remaining 5 per cent to the public. With an over-subscription of 58 times, the retail tranche was increased to 15 per cent of the IPO.

Goldman Sachs, Morgan Stanley, HSBC and BOC International were the underwriters.

Ping An raised HK$14.3 billion (US$1.83 billion) from the deal, making it the largest IPO in Hong Kong and the world's sixth largest so far this year.

Analysts and investors earlier compared Ping An's IPO to the likes of China Life Insurance and PICC Property and Casualty, listed late last year.

The company sold its shares at 24.6 times forecast 2004 earnings on a fully-diluted basis, much more expensive than China Life which trades at about 18.4 times expected 2004 profits.

The offer price is about two times Ping An's embedded value per share at the end of 2003 including the IPO proceeds, higher than China Life which trades at 1.8 times its embedded value.

"The biggest problems for other mainland companies seeking to list in Hong Kong would be their hidden bad debts, balance sheet and high valuations," Ma said.

Mainland companies looking to list in the near term include China Minsheng Bank, China Power International and China Construction Bank.

Hong Kong's benchmark share index, the Hang Seng index, went up by 2.65 per cent, or 313.91 points, to close at 12,163.69.

Total turnover amounted to HK$18.629 billion (US$2.39 billion). The last four trading days were at a loss.