Iraq attacks kill over 100, wound 320
(Agencies)
Updated: 2004-06-25 07:36
Insurgents set off car bombs and seized police stations Thursday in a five-city offensive aimed at creating chaos ahead of next week's handover of power to a new Iraqi government. U.S. and Iraqi forces took back control in heavy fighting that killed more than 100 people and wounded about 320.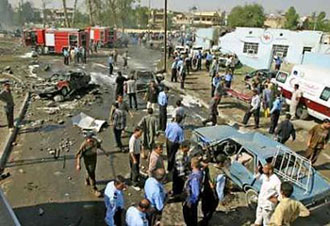 Iraqi police secure the scene after a car bomb explosions which targeted the local police force in Iraq's northern city of Mosul, June 24, 2004. Insurgents killed about 100 people in a wave of attacks across Iraq aimed at sabotaging the handover to Iraqi rule in six days' time. Guerrillas struck in Baquba, Falluja, Ramadi, Mosul and Baghdad, wounding more than 320 people in an intensification of a bloody campaign by Iraqi rebels and foreign militants. [Reuters]

Abu Musab al-Zarqawi's terror network claimed responsibility for the offensive. Most of the casualties were Iraqi civilians. Three American soldiers were killed and at least 12 were wounded.

The heaviest fighting raged northeast of the capital in Baqouba, where American tanks and aircraft drove back black-clad guerrillas who seized a government office complex and roamed the deserted streets brandishing rocket launchers and automatic weapons.

Two American soldiers died in the Baqouba fighting, the 1st Infantry Division said. U.S. aircraft dropped three 500-pound bombs on insurgent positions near the soccer stadium, Maj. Neal O'Brien said.

But the worst bloodshed came in Mosul, the country's northern metropolis often touted as a success story in restoring order in Iraq, where four car bombs killed 62 people, including a U.S. soldier, and wounded more than 220, according to the U.S. military.

The ferocity of the assaults shocked the outgunned Iraqi police and their American military partners, and the extent of the fighting was a clear sign of the power of the insurgency. Coalition officials said the offensive could augur escalated attacks in Baghdad in coming days.

"We underestimated the nature of the insurgency that we might face during this period, and so the insurgency that we are looking at now ... has become a serious problem for us," Secretary of State Colin Powell told the British Broadcast Corp.

U.S. officials have been warning that al-Zarqawi's followers - who were responsible for the beheadings of American businessman Nicholas Berg and South Korean hostage Kim Sun-il - would likely step up attacks to try to disrupt the transfer of sovereignty to the interim Iraqi government.

On Tuesday, U.S. airstrikes against alleged al-Zarqawi hideouts in Fallujah killed more than 20 of his fighters, American officials said.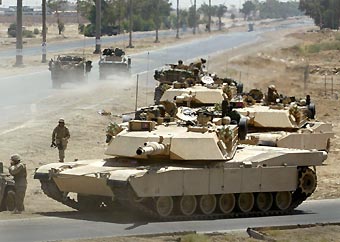 U.S. Marine M1 Abrams tanks from the 2nd Battalion of the 1st Marine Division take up defensive positions during a firefight near the main traffic checkpoint in Falluja June 24, 2004. A U.S. Marine Cobra helicopter gunship was shot down during the battle but the two pilots escaped uninjured. At least 15 insurgents were killed and three Marines injured in the fighting, a military spokesman said. [Reuters]

Al-Zarqawi's followers claimed responsibility for Thursday's attacks in a statement posted on an Islamic Web site often used by his Tawhid and Jihad movement. The statement said the "occupation troops and apostates" - meaning Iraqi police - "were overwhelmed with shock and confusion."

American and Iraqi officials insisted the transfer of power would proceed as planned June 30. On Thursday, the coalition turned over the last 11 government ministries to Iraqi officials.

During the handover ceremony, interim Prime Minister Iyad Allawi said the attacks were "only acts of disturbances conducted by cowards" meant "to foil the democratic process."

Besides Mosul and Baqouba, attacks occurred in Ramadi, Fallujah, Baghdad and Mahaweel. Hostile fire near Fallujah forced a U.S. Marine Cobra helicopter gunship to make an emergency landing, but the crew escaped injury, a senior coalition official said.

In Mosul, at least four car bombs rocked the police academy, two police stations and the al-Jumhuri hospital. U.S. troops recaptured the Sheik Fathi police station in a hail of gunfire, and Iraqi troops raided a nearby mosque used by the insurgents, the U.S. military said. Mosul's governor imposed an overnight curfew, and the city television station urged people to stay home for the "general good."

Only four days ago, the U.S. Army handed over security duties in the Baqouba suburb of Buhriz after hammering insurgents there in heavy fighting. U.S. military officers said then that they were confident the Iraqis could control the security situation.

But on Thursday, American M1A1 tanks - machine guns blazing - rolled down the deserted streets of Baqouba - once better known as the center of Iraq's commercial orange groves.

Harried doctors, some working in bloodstained white coats, struggled to cope with a stream of wounded brought to Baqouba's hospital in civilian cars and pickup trucks. Corridors in the emergency room were spattered with blood. The Health Ministry said 13 people were killed and 15 wounded.

The wounded screamed in agony, and many of their friends and relatives directed their anger at the Americans, whom they blamed for destroying the order imposed by Saddam Hussein.

"May God destroy America and all those who cooperate with it!" one man screamed in the corridor. Another carried the body of a young man shot in the back of the head. "Oh God! Abbas is dead!" he cried.

Outside, U.S. Army helicopter gunships swooped low over Baqouba, occasionally firing at suspected guerrilla hideouts in palm groves. Some motorists flew white flags from their car antennas. Iraqi police guarded several key government buildings - including the local coalition office - but they were not seen on the streets.

In Ramadi, an insurgent stronghold 60 miles west of Baghdad, black-clad, masked gunmen barraged a police station with rocket-propelled grenades, destroying the building.

"We were inside the station and suddenly there was a very heavy explosion," police 1st Lt. Ahmed Sami said. "We discovered later on that the station was attacked from all around."

The gunmen also attacked another police station and the governor's residence with rocket-propelled grenades. At least 20 people were killed in the city, according to the Health Ministry.

In the Doura area of Baghdad, someone dressed in an Iraqi police uniform carrying a suitcase or a briefcase blew himself up near a U.S.-Iraqi checkpoint, killing four Iraqi soldiers and wounding at least one American, U.S. soldiers said.

Insurgents attacked four Baghdad police stations with mortars, hand grenades and Kalashnikov rifles. Police successfully defended the stations with "minimal assistance from coalition forces," a U.S. statement said.

In Mahaweel, south of Baghdad, a bomb exploded outside the police station, killing one officer and wounding six.

U.S. Marines and insurgents traded gunfire on the outskirts of Fallujah, the rebellious Sunni city and al-Zarqawi stronghold which American forces handed over to a local Iraqi force following a three-week U.S. siege in April.

Late Thursday, Fallujah Mayor Mahmoud Ibrahim al-Juraisi announced a cease-fire and the Marines pulled back to their bases just outside the city. Motorists who drove through Fallujah earlier said insurgents and uniformed Iraqi police appeared to be cooperating, chatting amiably on the street corners.




Today's Top News
Top World News

Minister: China deserves market economy status




Grain yield to end years of decline




Iraq attacks kill over 100, wound 320




SARS vaccine shows promising results




Investigation: Boat tragedy 'avoidable'




Probe-2 satellite headed for July orbit