Investigation: Boat tragedy 'avoidable'
By Wu Gang (China Daily)
Updated: 2004-06-24 23:58
A boat capsizing in Xiaolangdi Reservoir that resulted in 44 deaths may have been avoidable.
The "Pearl No 2" capsized at about 8 pm on Tuesday night when a sudden storm measuring 9 to 10 degrees hit the Yellow River reservoir. The 69 people on board were thrown into the water.
Only 26 were rescued overnight. One of them died and another was seriously injured but in stable condition.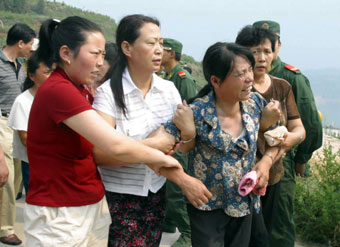 Relatives of some of the victims wait at the side of the reservoir where 43 people were lost after a boat capsized. No survivors were found. [Xinhua]


Salvage experts from Beijing and Shanghai rushed to the reservoir in Jiyuan, Henan Province on Wednesday.

Seven divers started working at 2 am the next day.

By last evening, only two bodies were taken out of the water where the boat sank. The rest are feared dead, reported CCTV.

An investigation team sent by the State Council found the incident was the result of conscious breach of safety rules.

The Xiaolangdi Dam was undergoing a project to clear silt from the river bottom by releasing high-pressure water from the dam. Local authorities had made it clear no tourists boats were allowed to cruise the reservoir from June 15 to July 10.

But the boat sailed out on Tuesday despite the ban. What made it worse, the boat with a capacity of 52 was found to be carrying 69 people during that trip.

Not a single one of the tourists on board was given a life jacket. And no one was told how to use life buoys, the survivors said.

"The tragedy could have been avoided," said Wang Dexue, director of the State Administration of Work Safety. "It is a serious lesson for us."

Three heads of Pearl Island Development Co, a captain and a boatman, who are believed to be responsible for the accident, have been taken into police custody.

Salvage efforts are difficult because the reservoir is deep and the water cold, a rescue supervisor said.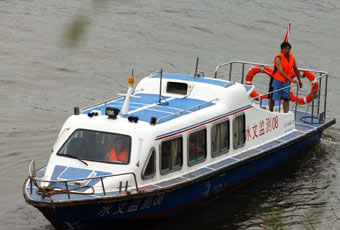 A wrecking boat patrols in the water area to search for victims and locate the sunken boat Thursday. [newsphoto]


The boat sunk in 57 metres of water, said the Ministry of Communications who sent the 20-plus salvage team.

The victims are officials of a chemical plant in Kaifeng, Henan Province.

They were on a sightseeing trip to celebrate the July 1 Party Founding Day.

They were told to close the windows of the boat when the storm came. But the boat overturned within half a minute.

Many tourists had to break windows to surface and be saved later by a fishing boat and more boats arriving on call.

The boat sank in 10 minutes with the rest of the passengers.




Today's Top News
Top China News

'Sea turtles' losing the job race




Bo: China deserves market economy status




Grain yield to end years of decline




Iraq attacks kill over 100, wound 320




SARS vaccine shows promising results




Investigation: Boat tragedy 'avoidable'