Bo: China deserves market economy status
By Zhang Jin (China Daily)
Updated: 2004-06-24 23:34
China is making progress in the battle against piracy and counterfeiting, said US Secretary of Commerce Don Evans Thursday in Beijing.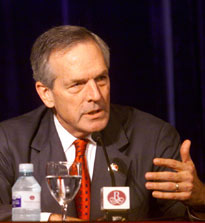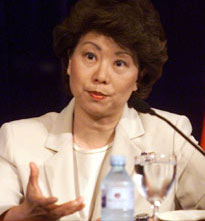 US Secretary of Commerce Don Evans (left) and Secretary of Labour Elaine L. Chao at a press conference in Beijing. [newsphoto]

"(I was) impressed that Chinese Vice-Premier Wu Yi had started to conduct a countrywide campaign at the central, provincial and local city government levels as to the importance of intellectual property rights (IPR) enforcement," he told a news conference.

China's Supreme People's Court also made progress on producing a document that would toughen criminal penalties for counterfeiting, he said.

During a four-day visit in which IPR and greater market access topped the US agenda, Evans said China had expressed its intention to close the US-China trade gap.

The two-way trade volume came at US$62.4 billion from January to April, a year-on-year increase of 34.4 per cent, official data showed.

The US is currently China's third largest trading partner only after the European Union and Japan, May figures showed.

The secretary also wants China to further widen its market access, saying US investors have concerns over getting a level playing field in China.

Top Chinese leaders including Premier Wen Jiabao, Vice-Premiers Wu Yi and Zeng Peiyan and Minister of Commerce Bo Xilai, met Evans in Beijing. Evans arrived at Northeast China's Harbin on Monday.

As for the increasing trade frictions, both Bo and Evans believe complications and friction are inevitable along with the rapid growth of China-US economic and trade relations, and that the two nations will team up to solve the issues by candid dialogues.

Bo said China deserves market economy status in dumping and subsidy cases.

China made a compromise in its entry into the World Trade Organization in late 2001 that other members can treat it as a non-market economy in dumping and subsidy cases until 2016.

Bo said Chinese furniture producers, mostly private or joint ventures that are fully subject to market driven operations, were unfairly treated as the US used "surrogate countries" to evaluate export prices.

The US last week decided to impose preliminary tariffs of as much as 198 per cent on some imported Chinese wooden bedroom furniture.

Analysts suggest the ruling could lead to job losses in the Chinese furniture industry.

And China wants the US to take concrete steps to lift the controls on the export of high-tech products to China, Bo said.

At the same press conference, US Secretary of Labour Elaine L. Chao said four agreements have been inked between China and the US on labour projects.

She is the first US labour secretary to visit China since 1988.




Today's Top News
Top China News

'Sea turtles' losing the job race




Bo: China deserves market economy status




Grain yield to end years of decline




Iraq attacks kill over 100, wound 320




SARS vaccine shows promising results




Investigation: Boat tragedy 'avoidable'