Price hikes not to stop until October
By Fu Jing (China Daily)
Updated: 2004-06-24 00:02
Rising prices are putting pressure on the government, which claims soaring investment has been curbed.
"The price hikes that started last January will continue and are expected to become stable in October," said Cao Yushu, spokesman of the National Development and Reform Commission (NDRC).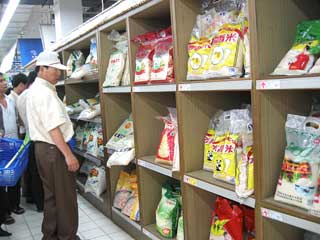 Customers select and buy rice at a supermarket in Ningbo, East China's Zhejiang Province, June 23, 2004. Officials say prices are likely to continue rising in the coming months. [newsphoto]

During a press conference organized by the State Council Information Office Wednesday, Cao ruled out the possibility of inflation in China but said consumers' prices will continue to rise through the end of third quarter.

The National Bureau of Statistics said recently China's consumer prices were 4.4 per cent higher in May than the same month last year, the fastest pace in seven years.

The consumer price index (CPI), policy-makers' key inflation gauge, rose a year-on-year 3.9 per cent in urban areas but 5.2 per cent in the countryside.

"The indicators, not higher than international alarming line of 5 per cent, are still under control," said Cao.

On Tuesday, Premier Wen Jiabao also expressed confidence that China will achieve the goal of "soft landing" of the economy.

Since last August, in response to some outstanding contradictions and problems in economic performance, the Chinese Government has taken a series of measures that "have already yielded noticeable results, and China's national economy has maintained steady and rapid growth," Wen said.

Investments in fixed assets grew by 18.3 per cent year-on-year in May, a significant drop from the 34.7 per cent growth rate in April. Meanwhile, the growth rate of industrial production, money supply, prices of capital goods, and consumer price index also subsided to varying extents.

The electrolytic aluminum sector, one of the identified prominent overheated sectors, is also cooling down.

In this process, the commission said, China's economy has maintained fast growth momentum.

Industrial output grew 17.5 per cent year-on-year to 431 billion yuan (US$52.5 billion) in May. Fiscal revenue, foreign exchange reserves, foreign investment, people's income and market sales continued to rise.

Lin Yueqin, a researcher with Chinese Academy of Social Sciences, said the achievements resulted from swiftly curbing blind investment and low-grade capacity expansion in certain overheated sectors and rectifying the land market.

"All of these had been done through tightening credit and land control," said Lin.

While straightening out investments in fixed assets and strictly cracking down on transgressions, the government also adopted a series of measures to beef up agriculture and weak links in the economy, Lin said.

Last Wednesday's executive meeting of the State Council, China's cabinet, also held that the current economic situation is sound in general and the government's macro-economic control measures have achieved remarkable results.

But the commission spokesman Cao pointed out major existing problems, like the excessively large investment scale and the gap between supply and demand of coal, electricity, oil and transporting capacity, and held that macro-control must not let up.

Although lower than levels in 2003, the growth rate of investment in the sectors of iron and steel, cement and aluminum remained at high levels, economists said.

They were also concerned that coal supplies dropped to 98 million tons by the end of April, the lowest point in 20 years.

Due to inadequate electricity supply capacity, 24 provinces, autonomous regions and municipalities have experienced brownouts so far this year.

Railway freight capacity falls far short of demand. Due to limited capacity, railway departments could meet only 35 per cent of the requests for freight carriages in the first five months.

To solve the problems, Cao proposed some solutions including:

- Curb the fast growth of bank loans;

- Step up control over land management;

- Strengthen management of the grain market;

- Implement measures to deal with summer power shortages;

- Increase assistance to agriculture, water conservation, environment and social undertakings.




Today's Top News
Top China News

Price hikes not to stop until October




DPRK: Concrete plans can help nuclear talks




Audit: US$170 million discovered misused




China set to clarify bankruptcy protection




All 43 missing in boat sinking feared dead




Migrant workers get injury insurance