An upsurge of oriental migratory locusts in North China and the Yangtze River areas has spiraled into a plague that is devastating crops.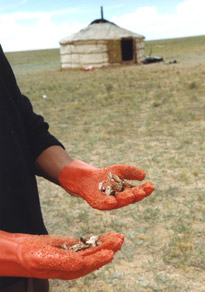 An epidemic-prevention staff member from the grasslands center in Sonid Youqi of Inner Mongolia Autonomous Region shows some locusts killed by pesticides. [newsphoto]

The infestation affected 970,000 hectare of farmland in ten provinces and municipalities, said the Ministry of Agriculture.

Grasshoppers have attacked more than 13.3 million hectares of grassland. Half of that is in Inner Mongolia.

Grasshoppers do not migrate and are less harmful than locusts.

Plant protection departments have brought the infestation under control in 482,000 hectares of farmland, Xinhua reported.

And more resources are on the way, including insecticides, equipment and manpower.

So far, the central government has invested 5 million yuan (US$604,500) and plans to spend 50 million yuan (US$6 million) more.

A plague of locusts is a large, population present in at least two major regions. Locusts are normally lone creatures, but when their numbers boom, they modify their behaviour and group together. Migratory locusts are more harmful than the non-migratory ones.

Hebei Province, one of the spots most seriously hit, is being sprayed with insecticide using planes as well as ground plans to kill the swarms.

To minimize ecological damage, the ministry tried to fight the plague using biological and ecological methods.

From late May, 6.7 million hectares have been set up as sample field in which more environmental-friendly biopesticides have been used.

Other more environmentally sound alternatives, like improvement of the plantation of the plague area and taking the advantage of natural enemies were also used in the country's 8-million-hectare sample areas.

Earlier, a Xinhua report said that China's first airport for locust control started operation on June 17 in East China's Shandong Province.

Located in Kenli County in the rural area of Dongying, the airport has a concrete runway and parking lot totalling about 40,000 square metres. The runway is 670 metres by 34 metres.

China approved the construction of three airports devoted exclusively to locust elimination in 2001, including the one in Shandong.

In another development, State Forestry Bureau said that forest pests are causing great loses to China this year.

Pests have attacked area 8.7 million hectares this year.

Experts estimate economic loses will be 100 billion yuan (US$12 billion) and there is no end in sight.

The pest attack is more serious and diversified in South China than in the northern part. North and Northeast China are relatively better off.

Growing foreign trade has brought with it a growing number of alien invasive species.

A warm and dry climate and the structure of the forest, which features large proportion of baby-trees, also help the pests develop.

An insect pest in South China's Shankou Mangrove Reserve at the end of May destroyed 66.7 hectares of in two weeks, the Xinhua News Agency reported.

Mangrove expert Fan Hangqing said the destruction in the city of Fangchenggang along the Sino-Viet Nam border was caused by a kind of caterpillar. He attributed the pest's arrival to constantly expanded offshore aquatic breeding.

Warning that such negative impacts are slow but cumulative, Fan said the pest attack is a sign of a destroyed mangrove ecosystem.