Migrant workers get injury insurance
By Liang Yu (China Daily)
Updated: 2004-06-24 00:01
Shanghai took another step towards an overall social security system, with the unveiling Wednesday of a regulation to provide employees work-related injury insurance.
Together with other existing measures -- like pension, medical insurance, child birth insurance and unemployment insurance; the new industrial accident policy is expected to help create a more reliable working environment and better protect residents' interests.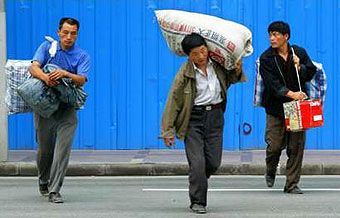 Chinese migrant workers carry their belongings while crossing a street in Shanghai, June 17, 2004. China had 113.9 million migrant workers from rural areas in 2003, accounting for 23.2 percent of the total rural laborers, a survey carried out by China's State Statistical Bureau reported. [Reuters]


"An overall social security system will play an important role in bolstering Shanghai's economic development, keeping social stability and protecting workers' rights," said Jiao Yang, spokeswoman for the city government.

To be implemented as of July 1, the occupational injury insurance will cover all the local establishments that are part of the city's employee social security system. Those institutions range from enterprises and government bodies to public institutions and private businesses, said Jiao.

Employers will be expected to pay occupational injury insurance fees and tell their employees about the policy.

The insurance will cover various types of injuries, including casualties suffered during business trips, vehicle accident injuries occurring on their way to or back from work, as well as injuries during emergency rescues undertaken to protect State or public interests.

The insurance is expected to cover medical treatment and economic compensation for injured workers while helping boost injury prevention mechanisms, Jiao said.

Migrant workers could be one of the biggest beneficiaries of the occupational injury insurance, experts say.

On-the-job injuries are the second largest cause of casualties in Shanghai, second only to traffic accidents.

Official statistics indicate that Shanghai now has more than 3 million migrant workers, many of whom are still making a living in poor working environments lacking sufficient protection measures.

Some 4.61 million employees were covered by the city's pension insurance system by the end of last year. More than 6.89 million employees, plus 231,100 individual-owned business operators and self-employed people, joined the local medical insurance system. More than 4.4 million employees in the city are beneficiaries of the local unemployment insurance.

In related developments, Jiao said the city will soon see the launching of a comprehensive insurance scheme aimed at 300,000 household service workers.

As a non-compulsory commercial insurance provided by Ping'an Insurance Property and Pacific Insurance Property, the policy is expected to help minimize injury risks suffered by such workers.

While employers are expected to pay 30 yuan (US$3.6) as an annual premium for each household service worker, the injured could get up to 100,000 yuan (US$12,000) as compensation, said Jiao.




Today's Top News
Top China News

Price hikes not to stop until October




S. Korea bans beheading footage on Internet




DPRK: Concrete plans can help nuclear talks




Audit: US$170 million misused in budget




China set to clarify bankruptcy protection




43 missing in boat capsizal feared dead