Shanghai to deal with shortage of places to go
By Li Jian (China Daily)
Updated: 2004-06-24 00:01
The country's economic hub city needs more toilets.
As it prepares to host the World Expo 2010 and the more than 140 million tourists that come with it, the city is looking to upgrade its toilet network, said Xu Chuanyang, director of Shanghai City Appearance and Environmental Sanitation Administration Bureau.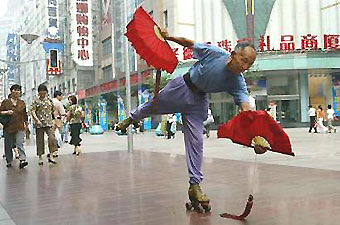 A Chinese man roller skates along the Nanjing Road shopping district in Shanghai, June 17, 2004. [Reuters]


Shanghai has 2,085 government-run public toilets. Half of them are in downtown areas. There are 1,740 toilets in public places such as supermarkets and entertainment centres open to the public. That adds up to roughly one toilet for every 300 square metres.

"The quality of the toilets has met the need of the public in Shanghai. We put more attention to improve the service," said Sun Zhixing, an official of the City Appearance and Environmental Sanitation Administration Bureau.

Public toilets in Luwan, Huangpu and Hongkou districts have water-free urinals that do not need flushing and are odour-free.

"The new kind of urinal system is under testing now. We will decide whether to apply it in all public toilets later this year," said Sun.

Another problem being addressed is the imbalance between male and female toilets. The number of female toilet cubicles is equal to that of male cubicles.

"The number of toilet cubicles for women should be 30 per cent more than for men," said Sun.

There have been complaints that women have to queue for toilets in most public places and the situation gets worse during holidays.

Relief is in the horizon, however. The city plans to increase the number of toilets for women in 2005.

One approach is the city's plan to host an international toilet forum in May 2005.

The Singapore-based World Toilet Organization will sponsor a world toilet forum and expo, themed around modern toilets for modern cities.There will be 100 participants focusing on toilet maintenance and innovation. Some 8,000 visitors are expected.

The forum will provide new technology and designs for public toilets, the establishment of new toilet culture and the influence of the toilet culture on people's behaviour.

The forum is an annual event started in 2001. It has been held in South Korea and China's Taiwan Province. In 2006, the forum will be held in Britain.




Today's Top News
Top China News

Price hikes not to stop until October




China aims at regional maritime law centre




DPRK: Concrete plans can help solve nuclear issue




Development fund to aid small, medium firms




Migrant workers get injury insurance




Locust plague devastates crops