Giant panda reaches future home in Chengdu
(Xinhua)
Updated: 2004-06-23 00:15
After an overnight quarantine in Chinese capital Beijing, Japan-born giant panda Xiong Bang arrives at his new home in the Giant Panda Breeding and research Center in Chengdu, capital of southwestern Sichuan province around 13:30 p.m. Tuesday.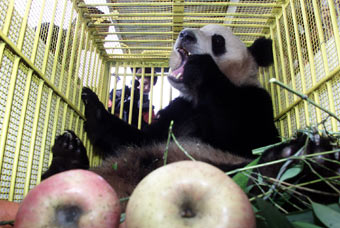 The Japan-born giant panda Xiong Bang ("Yuhin" in Japanese) eats his supper in a cage Monday at Beijing International Airport. Xiong Bang was sent to China June 21, 2004 for a breeding mission in Chengdu, Sichuan Province. Xiong Bang was born in an adventure park in the town of Shirahama, Western Japan in 2001. [newsphoto]

The five-hour trip did not exhaust this two-year-old lively male pander, who instead became excited and paced around in the cage and stared at those who approached him.

Xiong Bang was the first male giant panda born in a foreign land to return to its ancestral home, and he is also the first offspring born by the artificially-bred pandas during winter time as a giant panda is usually in heat during spring and delivers babies in summer or fall, said Yu Jianqiu, deputy head with the center.

In February 2004, a female giant panda, Hua Mei born in the United States, returned to the prestigious Wolong Nature Reserve in Sichuan.

The center has prepared a special snug home for Xiong Bang alone, where he will pass a one-month quarantine. The single-story shed, which was refitted from the former veterinary clinic of the center, comprises four rooms under the foliage of bamboo and trees. By the house is a 70-sq-m sport ground for him to play, said Zhang Zhihe, head of the center. "Xiong Bang will live in two spacious rooms, with an area of 30 m each, and the rooms will be disinfected everyday."

Experts with the center have worked out a detailed schedule for Xiong Bang's daily routines and reproduction activities.

"We have prepared tasty local food for Xiong Bang, including apples, fresh bamboo leaves and tender, delicious bamboo shoots besides the powder milk and biscuits brought from Japan," said Wang Shuqun, the experienced keeper who will attend to Xiong Bang meticulously in the future.

The two-year-old giant panda is the son of Yong Ming and Mei Mei, a panda couple leased by China to the Adventure World Park Zoo in western Japan's Wakayama prefecture in 1994 and 2000 respectively.

Born at the zoo in western Japan's Wakayama prefecture in December 2001, the present 88.6-kg lively "boy" has grown from a baby cub weighing merely 190 grams.

As male pandas usually become sexually mature at five to six years old, acknowledged Yu, Xiong Bang will not immediately join China's giant panda breeding plan after his return home but he very likely would receive essential sex education first.

Besides the return of Xiong Bang, the center also had a piece of good news that the Avon Products (China) Co, Ltd. is ready to pay for the raising of this lovable boy, said Yu. "Money is always short for us. To raise a panda in captivity cost at least anywhere from 40,000 to 50,000 yuan (4,000 to 6,000 US dollars) a year and we will be very thankful if more companies and organizations can render us financial support like Avon."

As China's only research center specializing for the endangered giant pandas, the center was established in 1987 at the northern suburb of Chengdu, with a 40-ha area. In addition to Xiong Bang, currently there are 42 pandas living in the center.

Giang pandas are among the world's most endangered wildlife species. Statistics from the State Forestry Administration released in early June showed that the number of giant panda at large in China has risen by over 40 percent to 1,590 from the mid- 1980s, whereas a total of 161 are in captive breeding programs worldwide.




Today's Top News
Top China News

Iraq militants behead South Korean hostage Kim




Epidemic control to enter national plan




Wen: China, US share wide interests




US approved use of dogs against prisoners




ACD nations issue energy strategy




Progress expected from six-party talks