46 killed in attacks on Russia government
(Agencies)
Updated: 2004-06-22 16:53
Thousands of Russian troops streamed into a southern Russian city Tuesday in pursuit of suspected Chechen rebels who launched a series of brazen attacks and killed at least 46 people, three of them high-ranking regional officials.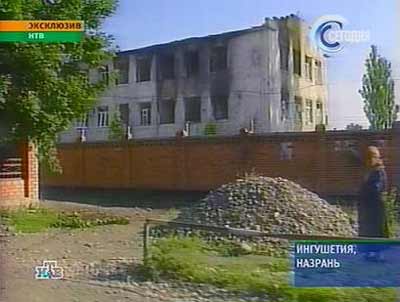 Damaged building of Ingushetia police headquarters in Nazran early Tuesday, June 22, 2004, in this image taken from television. Heavily-armed militants launched near-simultaneous overnight attacks against police headquarters, border guard stations and other government offices in Ingushetia, a Russian region bordering warring Chechnya, officials said Tuesday. The Interfax news agency reported that more than 46 people, including 28 civilians, were killed. [AP Photo]
The overnight attacks in the province of Ingushetia raised new fears that violence could spread to other parts of southern Russia.
The fighters seized the Interior Ministry in Nazran, the largest city in Ingushetia, and attacked border guard posts there and in two villages near the border with Chechnya shortly before midnight Monday, regional emergency officials said.
By late Tuesday morning, thousands of Russian soldiers and anti-terrorism troops were moving into Nazran and most of the fighters had retreated. Some of the fighters seized Nazran residents' cars to make their getaway, residents said.
Col. Ilya Shabalkin, spokesman for the Russian forces in Chechnya, blamed Chechen rebels for planning the attacks, but said the raids ! carried out by about 100 militants armed with grenades and rocket launchers ! involved fighters from both Chechnya and Ingushetia, the Interfax-Military News Agency reported.
Officials said some of the fighters were shouting "Allahu akhbar" ! a rallying cry of Chechnya's separatist rebels as their insurgency increasingly comes under the influence of radical Islam.
Chechnya's Interior Minister Alu Alkhanov, the Kremlin-supported candidate in Chechnya's upcoming elections, told the ITAR-Tass news agency that he believes Chechen rebel commander Shamil Basayev, who has been blamed for some of the most audacious attacks, was behind the foray into Ingushetia.
Yakhya Khadziyev, spokesman for Ingushetia's Interior Ministry, said the 46 dead included 18 police officers and 28 civilians. He said that a military field hospital was set up in Nazran, a possible indication of more casualties.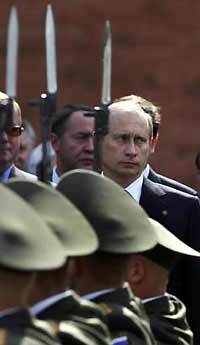 Russian President Vladimir Putin takes part in a wreathlaying ceremony, in Moscow Tuesday, June 22, 2004 on the anniversary of 1941 Nazi invasion. Heavily-armed militants launched near-simultaneous overnight attacks against police headquarters, border guard stations and other government offices in Ingushetia. [AP Photo]

A firefighter who would reveal only his first name, Aslan, said he had seen more than 10 corpses on the streets of the city.

"Wherever we were, there were armed people, some in uniform, some not, and you didn't know whose side they were on," Aslan said.

Ingush police estimated that up to 100 militants, armed with grenade and rocket-launchers, were involved in the assaults. The attacks sent the sounds of gunfire booming across Nazran and other settlements for most of the night.

"There are a lot of casualties, both from the law enforcement side and among civilians," the Interfax news agency quoted Ingush President Murat Zyazikov as saying.

Thousands of Russian anti-terrorist special forces officers and servicemen headed into Nazran, through the border village of Chermen in neighboring North Ossetia, in a long column of armored personnel carriers and army trucks shortly after dawn Tuesday. Inside the city, firefighters fought blazes at the Interior Ministry and its weapons storehouse, as residents cowered in their homes.

Fighting from the nearly 5-year-old Chechen war ! the second war in a decade ! has occasionally spilled into Ingushetia, highlighting the Russian military's ineffectiveness against the rebels.

The last major incursion was in October 2002, when a band of fighters attacked Russian forces well inside the republic near the village of Galashki, killing 17 servicemen.

In an interview excerpted on Radio Liberty last week, Chechnya's separatist president Aslan Maskhadov said that rebels were preparing to undertake new offensives.

"We are planning to change tactics. Before, we concentrated our efforts on acts of sabotage, but soon we are planing to start active military actions," he said.

A three-man crew from Russia's NTV television came upon some of the presumed attackers, wearing masks and speaking accented Russian, at a border crossing as the crew tried to enter Nazran from North Ossetia.

"Out of the dark, a voice says 'Stop, put your hands on the hood,' said NTV correspondent Maxim Berezin. "A man carrying an automatic weapon came up. 'Who are you?' 'We're from NTV.' He took a few steps back, as if to shoot us.

"Then he said, 'Say that we are the Martyrs Brigade,' I don't remember of whom, Abu, Alyua, I don't remember what he said. 'We have shot everyone here. Go and announce that.'"

Berezin saw the bodies of at least six men in camouflage ! the uniform of security service members ! lying outside a minivan. Nearby stood a police car, its windows shot out.

There was heavy fighting in Karabulak, where the militants attacked a border guard and customs post and a police station, and the assailants seized a police checkpoint in the village of Yandare, Ingush emergency officials said.

Acting Ingush Interior Minister Abukar Kostoyev was wounded in the first minutes of the fighting in Nazran and was taken to Vladikavkaz in North Ossetia, where he died, the Ingush Interior Ministry official said.

Ingush emergency officials said that the health minister and a deputy interior minister of Ingushetia had also been killed in the fighting in Nazran, while ITAR-Tass said Nazran city prosecutor Mukharbek Buzurtanov and Nazran district prosecutor Bilan Oziyev had died as well.

Police at the Chermen checkpoint on the North Ossetian border said that a 10-vehicle Russian military convoy had been ambushed en route to Nazran, about 1 1/2 miles away. Three vehicles from the column were later seen returning to Vladikavkaz, the North Ossetian capital, carrying an unknown number of casualties.

As dawn broke Tuesday, there was still sporadic shooting in Nazran and Karabulak, but the fighters were stealing away. Alleged militants stole some Nazran residents' cars to make a getaway, and people were hiding in their houses, said a resident who identified himself only by his first name, Aslanbek.

The attacks in Ingushetia came as Russian and Moscow-backed Chechen officials prepared for an August election to replace Kremlin-backed Chechen President Akhmad Kadyrov, who was killed in a bomb attack last month. The Kremlin has put forward its candidate, Chechen Interior Minister Alu Alkhanov.




Today's Top News
Top World News

NPC weighs momentous new bankruptcy law




Chinese furniture makers protest US duties




46 killed in attacks on Russia government




Asian nations vows to meet oil needs




FM sets up new branch to enhance security




Iran to prosecute British Navy sailors