Five US troops killed in Iraq
(Agencies)
Updated: 2004-06-22 09:13
Iraqi insurgents killed five American troops Monday, including four Marines whose bodies were found in Ramadi, west of Baghdad, a U.S-led coalition official said.
With nine days left until the U.S.-led coalition hands the reins of power to a sovereign Iraqi government, roadside bombs also left seven Iraqis dead Monday, coalition officials and police said.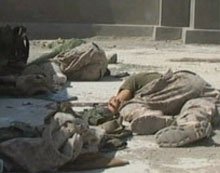 The bodies of four U.S. Marines were found in Ramadi. [AP]

U.S. Brig. Gen. Mark Kimmitt said a quick reaction force found the bodies of the four Marines in Ramadi after they failed to report to commanders at a predetermined time.

"After we've notified the families, I think we're going to be a little more forthcoming on what happened up there," Kimmitt said.

Video of what appeared to be four bodies in military uniforms was distributed Monday by The Associated Press Television News. A coalition spokesman had not seen the video but said it was likely footage from the same incident.

The other American killed Monday was a soldier with Task Force Baghdad. Six others and a contract worker were wounded when mortar rounds fell on their position about 10 a.m., coalition officials said.

Meanwhile, the South Korean Foreign Ministry has dispatched a delegation to Jordan following the weekend broadcast of a videotape showing a South Korean man pleading for his life, a government spokesman said.

On Sunday, the Arabic-language television network Al-Jazeera broadcast videotape of captors threatening to behead the South Korean unless his government pulls its troops from Iraq.

On the video, the hostage cried in English, "Please get out of here. I don't want to die. ... Your life is important, but my life is important."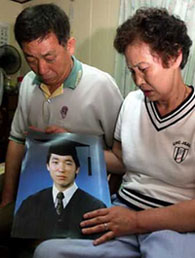 Shin Young-ja (R), mother of South Korean businessman Kim Sun-il who was kidnapped by Iraqi militants in Falluja, looks at a picture of her son with her husband Kim Jong-kyu in Pusan, June 21, 2004. Muslim militants in Iraq threatened to behead Kim Sun-il by Monday night unless his country scrapped plans to send 3,000 more troops -- a demand rejected by Seoul. [Reuters]

The South Korean Foreign Ministry confirmed that the man in the videotape is Kim Sun-il, 33. He works for a trading company that has been privately trying to secure his release. He was kidnapped Thursday.

After an emergency National Security Council meeting Monday, South Korea said it would go ahead with its planned troop dispatch despite the militants' threat to kill Kim.

South Korea has about 600 troops in Iraq and has announced plans to send another 3,000. The deployment would make South Korea the third-largest contributor to the coalition in Iraq, after the United States and Britain.

In other violence Monday, a roadside bomb detonated in Baghdad, killing two Iraqi Civil Defense Corps soldiers and wounding 14 others, according to the coalition press office.

The Iraqi soldiers were on a foot patrol when the blast took place at about 11 a.m. (3 a.m. ET).

South of Mosul in northern Iraq, four Iraqi workers for a private company were killed and three others wounded Monday when a roadside bomb exploded next to their convoy, the coalition said. One of the wounded died later.

Witnesses said the Iraqis were killed in a car driving ahead of an American security patrol and that there were American casualties. The coalition did not announce any U.S. casualties.

U.S.: Strike kills terrorists

On Sunday, Al-Jazeera broadcast videotape of captors threatening to behead the South Korean.

A U.S. missile strike in Fallujah last week killed key personnel from a terrorist network, Kimmitt said Monday.

At least 18 people were killed Friday in the precision strike that Iraqi witnesses said destroyed several houses in the Sunni Muslim stronghold about 30 miles (48 kilometers) west of Baghdad.

"What we saw at the strike location, what we had prior to that attack and all of our post-strike intelligence continues to confirm that that was a safe house with a significant amount of ammunition being stored for whatever reason," Kimmitt said.

"Very, very strong pre-strike intelligence" suggested that insurgents associated with suspected terrorist Abu Musab al-Zarqawi were at the house, he said.

Al-Zarqawi is a Jordanian-born Islamic militant whom U.S. officials say has close ties to al Qaeda leader Osama bin Laden. The U.S. government has put a $10 million price on his head.

U.S. sources have said al-Zarqawi has claimed responsibility for a string of attacks on U.S. troops, Iraqi civilians and others, including the August 2003 bombing of U.N. headquarters in Baghdad. They also blame him for the videotaped beheading of American businessman Nicholas Berg in May.

Fallujah is the city west of Baghdad where the March 31 killing and dismemberment of four American contractors prompted a U.S. military operation there the following month.

Prison declared a crime scene

A military judge in the the Abu Ghraib prison abuse scandal Monday granted a defense motion to declare the site a crime scene, barring any move to demolish it while U.S. soldiers are on trial for their roles in the scandal.

In May, President Bush said the United States would tear it down if the new Iraqi government agreed. Trials for the military policemen charged in the case are not expected to begin before October.

The motion by Paul Bergrin, the civilian defense attorney for Sgt. Javal Davis, came during pretrial hearings in the courts-martial proceedings against him and two other U.S. service members charged in the prison abuse scandal.

The hearing for Staff Sgt. Ivan "Chip" Frederick was postponed to July 23 because his civilian attorney did not appear in court, citing security concerns and difficulties getting to Baghdad. The judge said the attorney had asked to represent Frederick by telephone, a request he denied.

Other developments

In southern Iraq, crude oil has begun flowing at a rate of 1 million barrels a day through one of two pipelines damaged in recent attacks, a coalition spokesman has said. Repairs to a 42-inch pipeline were finished Monday morning, said Dominic d'Angelo in Basra, noting work was continuing on the second pipeline. D'Angelo said Iraq could be up to full export capacity -- 1.6 million barrels a day -- by midweek.




Today's Top News
Top World News

NPC weighs momentous new bankruptcy law




Asian nations vows to meet oil needs




FM sets up new branch to enhance security




Pro-independence investors not welcome




Japan-born panda cub happy back




Aussies restore purloined Sino dinosaur eggs