Aussies restore purloined Sino dinosaur eggs
(Xinhua)
Updated: 2004-06-22 00:08
Some very old eggs have returned to their rightful nest.
On Sunday, the Australian Government handed over to China confiscated dinosaur eggs and other fossils believed to be millions of years old.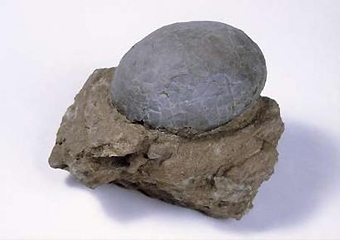 Undated handout photograph shows a fossilized dinosaur egg that were seized by police during raids on organized crime gangs in Australia last week. With a single dinosaur egg worth up to A$15,000 ($10,300), organized crime gangs have moved into the growing black market trade in rare Chinese fossils with many unwitting collectors now being sold illegal items over the internet, the Australian government said on June 21, 2004. [Reuters]


At a ceremony held in Canberra, Minister for Justice and Customs Christopher Ellison gave a list of 32 fossils seized by Australian Customs for the past year to Chinese Ambassador to Australia Fu Ying.

The fossils include 25 dinosaur eggs, three dinosaur egg pieces, three fish slabs and one sinohydrosaur fossil.

Among a number of fossils displayed at the ceremony were a 130-million-year-old slab of fossil fish, a 130-million-year-old marine reptile and five 65-million-year-old dinosaur eggs.

The fossils, illegally exported from China and imported into Australia, had been seized at the request of China.

Some of the fossils were believed to be from China's Henan Province and originated in the Cretaceous Period (100 million years ago).

Ellison told reporters "the Australian Government has great respect for the significance of these items in Chinese history and culture, and we are one of the first countries to take direct action to help China deter the illegal international trade in fossils and artifacts."

He did not give a value of the fossils but estimated a dinosaur egg could be priced at 15,000 Australian dollars (about US$10,500).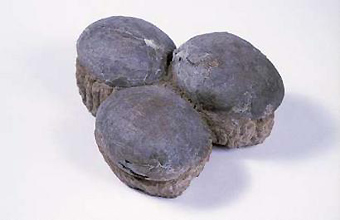 Undated handout photograph shows three fossilized dinosaur eggs that were seized by police during raids on organized crime gangs in Australia last week. [Reuters]


He said some of the fossils had been bought over the Internet by Australian residents who were unaware that they were purchasing illegal exports. Others were offered for sale in stores.

He called on Australian citizens who have interest in collecting fossils to be aware that such items could be illegal.

Investigation is going on and no one has been formally charged in connection with the seizures, said the minister.

Ellison said his government will continue to assist the Chinese Government in retrieving and protecting Chinese heritage.

The protection of cultural heritage is "a very serious matter which concerns all the countries," the minister pointed out.

The fossils handed over yesterday are separate seizures from a haul of 20 ton of Chinese fossils in Perth, Western Australia, last week.

"Last week's seizure of fossils in Western Australia is yet another example of the Australian Government working to assist the Chinese Government in its endeavors to halt the illegal trade in Chinese fossils," he said.

Also hailing the two country's co-operation in cracking down on smuggling of Chinese historical relics, Fu expressed gratitude for the efforts by the Australian Government in helping retrieve the fossils.

She said the co-operation in checking the illegal trade of fossils is an important part of the healthy cultural relationship between the two countries.

She said the two countries should expand their co-operation to jointly find out the smuggling paths and the organized criminal gangs involved.




Today's Top News
Top China News

Asian nations vows to meet oil needs




FM sets up new branch to enhance security




NPC weighs momentous new bankruptcy law




Japan-born panda cub happy back




Working group gathers for 6-party talks




Aussies restore purloined Sino dinosaur eggs