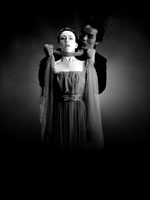 Vampire Count Dracula (Johnny Weiqiang Chang) prepares to strangle Lucy Westenra (Tara Birtwhistle) in the ballet.

First published in 1897, the novel "Dracula," by Irish author Bram Stoker, has never been out of print. It has been reissued in over 300 editions, including dozens in foreign languages.

Count Dracula has been a dominant figure in 20th-century Western culture, finding his way into movies, onto cereal boxes, and from Sesame Street to Canada's Royal Winnipeg Ballet.

Why such popularity? What is it about the vampire in general and about Count Dracula in particular that continues to fascinate?

There is no simple answer, as the appeal goes across the whole spectrum of human interest.

For some it is the seductive element, for others it is the connection with the dark side of human nature.

The vampire epitomizes for many the breaking of taboos, the challenge to authority, the fine line between power and passion, and even the search for immortality and eternal youth.

While Stoker's Dracula was the embodiment of evil, late 20th century vampires had become more ambivalent creatures, a clear reflection of the blurring of boundaries between good and evil in a increasingly secularized world.

Now the Royal Winnipeg Ballet will be returning to China for a whirlwind tour to perform the wildly popular "Dracula" in Beijing, Shanghai and Guangzhou from June 24 to July 4.

Beijing will have two performances at the Poly Theatre, on June 24 and 25.

Set to the music of Gustav Mahler (1860-1911) and choreographed by Mark Godden, "Dracula" had its world premiere in October 1998 in Winnipeg, Manitoba.

The debut could not have been a bigger success. Both audiences and critics raved about the new ballet. With this addition to its repertoire, the Royal Winnipeg Ballet found it had a genuine hit on its hands.

All performances played to sold-out houses at Winnipeg's Centennial Concert Hall, with 16,857 people passing through the turnstiles from October 20 to 25.

"Dracula" also helped the ballet company sell 4,259 subscriptions, over 1,000 more than for the previous season.

Audiences all week left the theatre buzzing about what they had just seen.

Canadian critics were just as ebullient:

"What Godden and his designer Paul Daigle have accomplished in terms of theatrical effects is proof that imagination and ingenuity are more important than a fat wallet." "It is an original, made-in-Canada, full-length story ballet that combines wit, intelligence, theatricality and fine dancing into a single very entertaining package."

"Utterly seducing...brilliantly conceived...there's a sensuality in Godden's dance... This is a crowning achievement for a choreographic career."

The American Dracula scholar Elizabeth Miller wrote in her review of the ballet that "...it is a cross between ballet and theatre. The lead dancers act as well as dance, and movements on stage are choreographed with both in mind.

"Consequently one had a strong sense of narrative as well as visual spectacle. And the narrative that is projected through dance, movement, facial expressions, body language and sets is that of Stoker's novel.

"The choreographer obviously knows the novel well, and chose to use it, rather than countless Dracula movies, as his source of inspiration."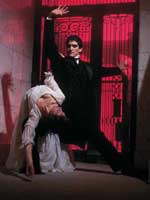 File photo: Secnes from the ballet.

Accompanied by the appropriately mysterious and foreboding music of Mahler, Godden's choreography is chilling, shocking and yet graceful, combining traditional and contemporary ballet with technical excellence and captivating style.

All movements are precise yet flowing, and convey the attitude needed to tell the lurid story of Count Dracula.

The sets and costumes designed by Paul Daigle are simple, eye-popping and non-traditional. The dramatic lighting design by David Morrison, highlights the neutrality of black and beiges to accentuate the vivid red of Dracula's cape, and blood.

The audience are taken from a seaside estate in England to a castle in Budapest, following the lives of both those who have fallen under the vampire's influence, and those who are desperate to put an end to him.

"Godden's choreography is varied; he's not afraid to incorporate just about any theatrical trick or staging technique, right down to the flying bat - much to the delight of audiences," comments Johnny Weiqiang Chang, who dances Dracular.

The acclaimed Canadian-Chinese dancer with Royal Winnipeg Ballet says, "The piece's movements are often mesmerizing, at once powerful, sexual, grotesque - even animal. But there's also a large dose of more traditional ballet movements echoing the classical overtones of the story."

Through Godden's choreography, "Dracula" becomes a mesmerizing, intimate and multi-layered portrait of a deeply tortured soul, danced by Chang, whose vampire is both a picture of courtly elegance and menacing force.

As Dracula, Chang's remarkable dance talents in many ways anchor this production.

The role suits him like a black silk cape. His natural elegance and impeccable line are matched by an understated charisma, a hint of sharp cruelty, a stage presence that suggests rather than displays Dracula's dark powers.

Chang seems to defy gravity with his leaps and spins. Instead of returning rapidly to the ground like most mere mortals would, he seems to float through the air in slow motion.

Chang joined the Royal Win-nipeg Ballet as principal dancer in January 1992. In the company's 1999/2000 season he became its Resident Guest Artist in order to be able to devote more time to international guest appearances.

Formerly a Principal Dancer with the National Ballet of China, Chang worked as a freelance guest artist in Japan and other Asian countries for five years before joining the Royal Winnipeg Ballet.

He was trained in the Beijing Dance Academy and graduated with top honours in 1979. He also attended summer classes in the United States with the Houston Ballet Academy in Texas.

Chang has won numerous national and international medals for dance excellence at such competitions as the Second International Ballet Competition in Jackson, Mississippi (1982); the Fourth World Ballet Competition in Osaka, Japan (1984); the Fifth Moscow International Ballet Competition (1985); and the First National Ballet Competition in Beijing, China (1985).

Versatility, technical excellence, and a captivating style are the trademarks of Canada's Royal Winnipeg Ballet, qualities that have garnered both critical and audience acclaim for the company.

These qualities keep the Royal Winnipeg Ballet in demand, with the company presenting more than 100 performances every season.

Founded in 1939, the Royal Winnipeg Ballet holds the double distinction of being Canada's premier ballet company and the longest continuously operating ballet company in North America.

The Royal Winnipeg Ballet most recently performed in China during an eight-week international tour of Asia in 2001 when they performed to sold-out houses and critical acclaim in 15 cities in seven countries.

Chief Operating Officer Judy Murphy is elated with the company's return to China.

"What a privilege to be able to resonate with audiences thousands of miles from home. We are thrilled to be returning to China after a three-year absence. We have developed relationships with our colleagues in China that I believe embody the spirit of international co-operation," said Murphy.