Man spurred by kiddie porn in sex slaying of 10-year-old girl
(Agencies)
Updated: 2004-06-18 09:22
Michael Briere was a software programmer with no criminal record when he watched child pornography one drizzly evening in May 2003 - and within minutes, he'd snatched a 10-year-old girl from the street and then sexually assaulted, strangled and dismembered her in a crime he described as "cruel, inhuman and nightmarish."
Briere, 36, pleaded guilty Thursday to first-degree murder in the sex slaying of Holly Jones.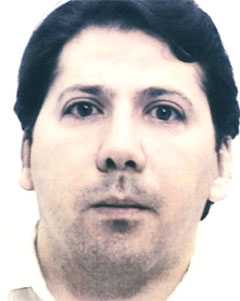 Michael Briere. [CP]

His plea came a year after DNA evidence from a soda-pop can he tossed into a streetside recycling bin almost a month after Holly's abduction linked him to the murder of the cheerful schoolgirl who lived just blocks from his home.

The Montreal native wept in court as he apologized for acting out on what was described as his "dark secret" - his fantasy to have sex with a child.

"A man who commits this type of crime - you put him away, you put him away for good," a clean-shaven Briere, his long black hair in a ponytail and wearing an olive-green suit, told Ontario Superior Court.

"I have failed as a human being. I want to state that for my actions, which were cruel, inhuman and nightmarish, I do apologize."

The details of his crime were shocking even for the veteran police officers and reporters in the courtroom, many of whom wept during the 90-minute hearing. Holly's mother, Maria Jones, bowed her head and sobbed as a Crown attorney read from an agreed statement of facts in the case but left the courtroom midway through Briere's remarks.

Briere's claim in the statement that he was incited by kiddie porn prompted immediate and plaintive pleas from Crown attorney Paul Culver and Holly's family for Ottawa to enact tougher laws to combat the scourge of child pornography.

Even Briere himself, in his confession to police, made reference to the ease with which he was able to view child porn both at home and at work.

"The simplicity of getting material ... it's close to mind-boggling," he says in the 61-page document. "I have never understood how come the whole thing wasn't shut down, just because of the nature of it. You search for the word 'baby' and it will find stuff there ... it's easy ... you don't need a degree."

"I don't know how it is for other people, but for myself, I would say that, yes, viewing the material does motivate you to do other things ... the more I saw it, the more I longed for it in my heart."

He added he had fantasized about abducting a young girl from the street for "maybe a year or two."

Indeed, the statement of facts suggests Holly was simply in the wrong place at the wrong time and a random victim of Briere's uncontrollable impulses after he viewed kiddie porn on the Internet on the evening of May 12, 2003.

Aroused after downloading the images, Briere went onto the street in the west-end neighbourhood known as the Junction Triangle. He spotted Holly on a street corner as she walked home from a friend's house, grabbed her by the neck and took her through a laneway to his apartment. She attempted to scream at one point but he covered her mouth with his hand.

Inside, Briere disrobed both himself and Holly, sexually assaulted her on his bed - "I never actually completed the act" - and then strangled her, all in about an hour, before dismembering her.

"I always had the fantasy of having sexual relations with a little girl," Briere is quoted as telling police in the statement. "So I just got carried away, and I walked outside, and Holly was ... I didn't know her, I'd never seen her before ... If she wouldn't have been on the street corner, I probably would have just walked the street and just gone back home."

Panicking after he killed her, he stuffed Holly's body in his fridge. Figuring he couldn't dispose of it in full, he used a small handsaw from his toolbox to dismember her.

He then frantically disposed of her remains over three days: the night of her murder, he carried her torso in a gym bag on the subway, panicking when some blood seeped onto the floor, and then dumped it into the Toronto harbour.

The next day, he rode the subway again with a travel bag containing more body parts, dumping them in another part of Lake Ontario.

On the third day after her murder, he stuffed more remains into garbage bags and put them on the curb outside his apartment for trash pickup, staying awake all night until they were gone.

Briere received an automatic life sentence and will not be eligible for parole for 25 years. But the sentence provided little comfort to Holly's family.

"There can be no closure for us here today," Holly's mother said in her victim-impact statement read to the court. "We will always continue to think of Holly every waking moment."

Tim Danson, the family's lawyer, said Holly's father, George Stonehouse, couldn't attend the hearing because he "couldn't control himself."

Justice David Watt had harsh words in response to Briere's apology.

"Your crime profoundly shocked this community and city and it is a community that is no longer easily shocked by crimes of violence," he said. "A random abduction on a quiet city street, a sexual assault, a murder, dismemberment, a young active life, like others full of promise, snuffed out."

He added: "There seems no bottom in the depravity pool nor any limits to the vulnerability of our children."

Outside the courtroom, Culver said Briere's case puts a spotlight on the disturbing prevalence of child pornography.

"If this isn't a case that brings home to society, to government, to legislatures and to those involved in the prosecution and resolution of child pornography cases that this cancer on our society must be stopped and stamped out, then I can't think of one," he said.

In the end, Briere was nailed by investigators using DNA evidence.

He refused to voluntarily give a sample to police during a door-to-door canvass shortly after Holly's remains were found last year, and an eagle-eyed investigator noticed a green bath mat and carpeting inside Briere's home that matched fibres found on the girl's body.

So the authorities followed him - picking up discarded garbage, including the pop can that matched DNA found under Holly's fingernails.

Briere was charged June 20, 2003 - a couple of days after test results confirmed the DNA match - and he confessed to the crime the same day.




Today's Top News
Top World News

Tashkent Declaration marks new phase for SCO




Terrorism part of Taiwan separatist agenda




Financial sector under scrutiny




FM refutes US claims of negative relations




Japanese experts arrive in Qiqihar




Whampoa marks 80th anniversary