Jackie Chan wants less action
(Agencies)
Updated: 2004-06-18 08:58
When Jules Verne's classic novel Around the World in 80 Days was made into a movie in 1956, Jackie Chan was only 2 years old. More than 40 years later, Chan reprises the role of Passepartout in the 2004 remake of this classic film.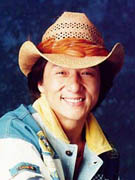 Opening in theaters in the United States on Wednesday, the remake is a remarkable combination of Jackie Chan's brand of kung fu and affinity and the unique imagination of Jules Verne. Starring Steve Coogan and Oscar-winning actor Jim Broadbent, Jackie Chan is the real hero throughout the film.
Director Frank Coraci admittedly strays from the original version of the tale of Phileas Fogg (Steve Coogan), a crackpot inventor who makes an outlandish bet that he can circumnavigate the globe in 80 days or less, using trains, boats, horses, camels and even a flying machine.
But Chan's character Passepartout, Fogg's trusty valet with kung fu skills who protects Fogg during the journey, seems to overshadow Fogg and is the real driving force behind the plot.
Jackie Chan once again displays his marvelous action talent in this movie but he doesn't seem to be satisfied.
Before the preview screening of Around the World in 80 Days in Honolulu, Hawaii, early this month, Chan said he was attempting his most daring stunt ever: becoming a "true actor" in movies that require dialogue and emotion instead of punches and kicks.
"I want to change. I want to be like Robert DeNiro. I want to be Dustin Hoffman," said the big-screen star from Hong Kong. "I don't always want it to be like the old days. I want to change my image. I want to become an actor who can fight, not an action star."
At 50, the high-flying martial arts master said he would probably do his own stunts for another five years. But a more serious image could provide some job security, he said.
"Even though I'm pretty good, how long can I keep fighting?" he said. "Look at Robert DeNiro. Look at Clint Eastwood. They still can act."
Chan will return to Hong Kong to make New Police Story, and at some point will make a drama with no action at all.
"I've done enough for the studios. Rush Hour 1, 2, 3, Shanghai Noon, Shanghai Knights, Shanghai Dawn. Enough! Now, I just want to do something for myself. We have a love story. Drama, no action."
Jackie Chan fans can now expect to see Chan developing a romance with a beautiful heroine. But will a Jackie Chan movie without fighting and action ever be the same?


Today's Top News
Top Life News

Tashkent Declaration marks new phase for SCO




Terrorism part of Taiwan separatist agenda




Financial sector under scrutiny




FM refutes US claims of negative relations




Japanese experts arrive in Qiqihar




Whampoa marks 80th anniversary