Tashkent summit marks new phase for SCO
(China Daily)
Updated: 2004-06-18 01:41
Leaders attending the fourth summit of the Shanghai Co-operation Organization (SCO) vowed Thursday to enhance joint efforts to safeguard regional peace and promote economic development.
Chinese President Hu Jintao proposed here Thursday that the SCO focus its attention on security and economic issues.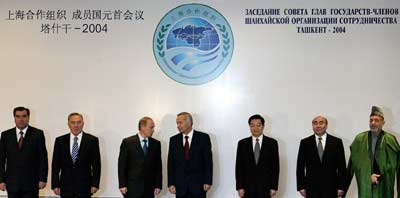 Presidents of Shanghai Cooperation Organization (SCO) countries (L-R) Imomali Rakhmonov of Tajikistan, Nursultan Nazarbayev of Kazakhstan, Vladimir Putin of Russia, Islam Karimov of Uzbekistan, Hu Jintao of China, Askar Akayev of Kyrgyzstan and Hamid Karzai of Afghanistan, as observing member, pose in Tashkent, June 17, 2004. [Xinhua]

Speaking at a press conference following the 2004 summit meeting of the SCO, Hu said that practical co-operation will keep the SCO full of vitality as it brings concrete opportunities to its members and their people.

The Tashkent Declaration signed by the presidents of the six members Thursday says the SCO is entering a new stage of full-range co-operation.

"To realize that target, we must jointly fight the 'three forces' of terrorism, separatism and extremism, deal with transnational threats and curb drug smuggling to maintain national security and social stability of the SCO members," Hu said.

Security has been a priority issue of the SCO that was founded by Russia, China, Kazakhstan, Kyrgyzstan, Tajikistan and Uzbekistan in 2001.

At the current meeting, the six countries agreed on joint efforts to fight illegal drug dealing.

Hu stressed that the SCO should also focus its attention on economic co-operation among members.

Russian President Vladimir Putin said the future development of SCO depends on the members working together particularly in economic issues.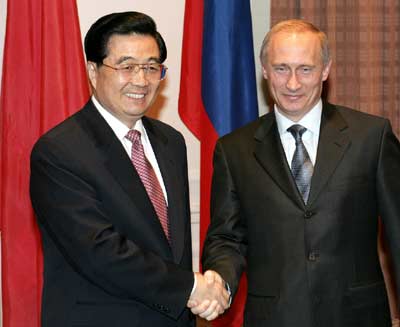 President Hu Jintao shakes hands with Russian President Vladimir Putin. [Xinhua]

Enjoying adjacent boundaries and faced with similar problems, the SCO countries could tackle the potential for economic and trading co-operation together, he said.

The SCO has decided to establish five specialized working groups dealing with e-commerce, customs, quality inspection, investment promotion and transportation.

Hu said the five groups should start to work as soon as possible and put forward proposals for closer economic co-operation between the members.

Other documents signed by the SCO leaders include a convention on SCO privilege and exemption, agreements on combating the trafficking of illegal narcotics. They also agreed on host countries for an SCO Secretariat and regional anti-terrorism centre, officials said.

These documents would set legal foundation for SCO's development, helping it become a real international organization, said Uzbek President Karimov at the press conference.

Invited by Uzbek President Islam Abduganiyevich Karimov as a special guest, Afghan President Hamid Karzai also attended the summit.

The SCO formally launched its regional anti-terrorist body Thursday morning, hours before the summit meeting.

According to the SCO, the prime objectives and functions of the Regional Anti-Terrorist Structure are:

L maintaining working contacts with main administrative bodies of SCO member states and strengthening co-ordination with international organizations on matters of combating the "three evil forces" of terrorism, separatism and extremism;

L participating in preparing drafts of international legal documents on matters of combating the "three evil forces," taking measures to establish: together with UN Security Council and its anti-terrorist committee, and international and regional organizations: a mechanism of effective regulation of global challenges and threats;

L gathering and analyzing information provided by member states on matters concerning the fight against the "three evil forces," creating an anti-terrorism database and presenting proposals for promoting co-operation within the SCO in the struggle against the "three evil forces:"

L preparing and holding research conferences to exchange experiences on combating the "three evil forces."

The SCO has accepted Mongolia as an observer under a decision made by the heads of state of the six members Thursday.

Mongolian external relations minister Luvsangiin Erdenechuluun, who participated in the summit meeting as a special envoy of Mongolian president Nachagyn Bagabandy, formally made the request to join the SCO on behalf of the president.




Today's Top News
Top China News

Playing with fire: Terrorism is on Taiwan separatist agenda




Tashkent summit marks new phase for SCO




China to US: Ease high-tech export control




Experts to dispose of WWII chemical bombs




China's economy on path to a soft landing




FM refutes US claims of negative relations