Bombers kill 41 in strikes on Iraqi forces
(Agencies)
Updated: 2004-06-18 00:35
Bombers killed 41 people in two strikes on Iraq's fledgling security forces Thursday, stepping up a bloody drive to sabotage plans for U.S.-led occupation to give way to Iraqi rule on June 30.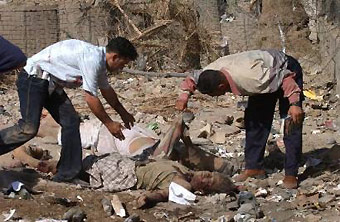 Iraqis remove the dead from the scene of an explosion in central Baghdad, Iraq Thursday June 17, 2004. At least 21 people were killed and 69 wounded by a car bomb outside a recruiting station for Iraqi security forces, police said. [AP]


A suicide bomber blew up his white four-wheel-drive car at an army recruiting base in Baghdad, killing 35 people and wounding 138, in Iraq's deadliest single bombing since a suicide attack on the same target killed 47 in February.

Later Thursday a car bomb killed six paramilitary civil defense guards and wounded four near the town of Balad, north of the Iraqi capital, the U.S. military said.

Insurgents, thought to include Baathists loyal to Saddam Hussein, Iraqi nationalists and foreign Islamist militants, have attacked the oil industry, government officials and security forces ahead of the June 30 handover.

Oil exports, Iraq's economic lifeblood, remained paralyzed Thursday after sabotage attacks on pipelines in the north and south. But an oil official said some exports could resume on Friday after repairs to a pipeline to a Gulf terminal.

Passersby and army volunteers took the brunt of the Baghdad blast, the city's third suicide bombing this week.

Iraqis hoping to join the nascent army were waiting outside the base when hot shrapnel scythed through the air.

"Suddenly there was a huge explosion. Ten or 15 others were on top of me on the street. I can't go back. No way," said army volunteer Ibrahim Ismail from his hospital bed.

"This was a cowardly attack. It is a demonstration again that these attacks are aimed at the stability of Iraq and the Iraqi people," Prime Minister Iyad Allawi said at the scene.

Iraq's new defense minister promised a military crackdown on insurgents.

"We will cut off their hands and behead them," Hazim al-Shaalan said. Iraqi forces would lead the raids, with only logistical help from U.S. troops, he added.

Visiting U.S. Deputy Defense Secretary Paul Wolfowitz said Iraqi security forces would need "substantial help" for some time and U.S. troops would stay in Iraq as long as necessary.

OPINION POLL

But an opinion poll conducted for the U.S.-led authority since a prison abuse scandal became public found that 55 percent of Iraqis would feel safer if U.S. troops left the country now.

Interior Minister Falah al-Naqib blamed suicide attacks on foreigners. "These bombings are not being done by Iraqis," he said. "I think there is some link to Zarqawi."

The U.S. military blames a group led by Jordanian militant Abu Musab al-Zarqawi, with suspected links to al Qaeda, for orchestrating much of the violence roiling Iraq.

A Saudi member of Zarqawi's group carried out a suicide bombing in Baghdad that killed 13 people, including five foreign contractors Monday, the man's brother said.

The U.S. military said a third soldier had died after a rocket attack on a base north of Baghdad Wednesday. A Hungarian soldier was killed and a Hungarian civilian driver was wounded Thursday when an explosion hit their convoy.

Since the U.S.-led invasion to oust Saddam last year, at least 612 U.S. soldiers have been killed in action in Iraq.

The scandal over abuses at U.S.-run prisons in Iraq has severely damaged Washington's image in the country.

The Pentagon acknowledged Thursday the military had been improperly holding a suspected Iraqi "terrorist" in a prison near Baghdad for more than seven months without informing the International Committee of the Red Cross.

Defense Secretary Donald Rumsfeld ordered military officials to hold the suspected member of the Ansar al-Islam group last November at the request of then-CIA Director George Tenet without telling the ICRC, officials said.

Pentagon spokesman Bryan Whitman said the United States now planned to give the ICRC access to the unidentified man.

In March, Maj. Gen. Antonio Taguba, the U.S. Army officer who investigated abuses at the Abu Ghraib prison near Baghdad, criticized the practice of holding "ghost detainees."




Today's Top News
Top World News

Tashkent Declaration marks new phase for SCO




Terrorism part of Taiwan separatist agenda




Financial sector under scrutiny




FM refutes US claims of negative relations




Japanese experts arrive in Qiqihar




Whampoa marks 80th anniversary