Experts to dispose of WWII chemical bombs
By Wu Gang (China Daily)
Updated: 2004-06-18 00:19
A group of Japanese weapon experts Thursday arrived at an Northeast China village to start retrieving chemical weapons left by invading Japanese troops during World War II.
More than 50 bombs were dug up by a villager in rural Qiqihar, Heilongjiang Province last month. Some of those are believed to be chemical weapons.
The heavily rusted bombs were buried again after the villager, Dong Liyan, reported them to the local government. Dong is now in hospital for headaches.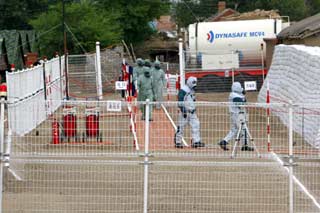 Chinese and Japanese experts, wearing protective gears, work at a excavation site at Touzhan Village in the Ang'angxi District of Qiqihar, Northeast China's Heilongjiang Province, where chemical bombs left by invading Japanese troops during World War II were found. [newsphoto]
Dong's family and residents from nearby households were evacuated. They are staying with relatives for the time being. The site was cordoned off and guarded by police.
Urged by the Chinese Foreign Ministry, the Japanese Government sent a special team to Touzhan Village in Ang'angxi District to excavate the weapons and transfer them to a temporary storage location in the city. During the war, a Japanese chemical weapons unit was stationed in the area.
The team of 25 arrived in Qiqihar at about 1:00 am Thursday and went to the site before noon.
The Japanese experts with full gear to protect themselves from chemicals began their work at the site at about 4:10 pm. They were assisted by Chinese soldiers.
They moved away the earth within one metre from the first point where the bombs were found. They wrapped up at around 5 pm after nothing new was found.
"Because it is our first day of work, we exchanged information with Chinese government officials and the military, so we began late," Aoyama Akihiko, an official with Japan's office in charge of the disposal of abandoned chemical weapons in China, told China Daily.
As of tomorrow, the team will excavate the bombs reburied last month and search for any more weapons at the site.
They plan to finish the excavation, packing and storage in about 10 days. That time could be extended because it is unclear how many weapons will be found, said Akihiko.
Dong has been in hospital since June 11, with a headache and low blood pressure, said doctors in Ang'angxi People's Hospital.
"It was not unusual to dig up a shell or two around the village, but it was horrible to find one bomb after another until the number went up to 52," said Dong, 54.
He was digging to build a new house. He touched the bombs while trying to throw them behind his house.
His six-year-old granddaughter was playing beside him at the time. Recalling that moment, Dong gets chills.
Dong is not the first victim of abandoned Japanese chemical weapons in the village.
Liu Fengwu, now 73, was almost killed by a chemical bomb he found in his backyard 48 years ago.
"His head swell as big as a balloon, his eyes could not see anything and the skin on his chest peeled off when he fell into unconsciousness immediately," Zhang Xiuying, his wife, remembered while Liu displayed his scarred neck, arms and chest.
Liu still can not see clearly with one eye, which is smaller than the other and lacks shine. He has difficulties breathing and coughs sputum every night though he has never smoked, he said.
On August 4, 2003, one person was killed and 43 wounded when several barrels of mustard gas leaked at a construction site in urban Qiqihar.
Japan has compensated the August 4 victims or their families,but the Chinese are preparing to launch a lawsuit against the Japanese Government seeking an official apology.
The Japanese Government has promised to recover and destroy all the chemical weapons abandoned in China by 2007.
Today's Top News
Top China News

Playing with fire: Terrorism is on Taiwan separatist agenda




Tashkent summit marks new phase for SCO




China to US: Ease high-tech export control




Experts to dispose of WWII chemical bombs




China's economy on path to a soft landing




FM refutes US claims of negative relations