Most gas victims leave hospital
By Li Dapeng (China Daily)
Updated: 2004-06-17 22:27
Most of the victims of a Tuesday toxic phosgene leak in East China's Fujian Province were released from hospital after treatment or observation.
As of Thursday, two victims of the accident at the Fujian Institute of Research on the Structure of Matter (FIRSM), were still in the hospital and 19 others were undergoing medical observation.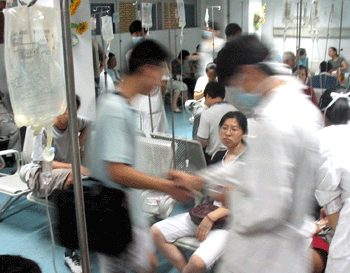 Patients receive treatment in Fujian Provincial Hospital. [newsphoto]


Earlier, about 100 received preventive treatment, a provincial government official said.

Du Ruibin, chief doctor at the Fujian Provincial Hospital, told reporters that most patients are improving.

All the patients in the hospital are now in fair condition, Du said.

Due to lack of knowledge about phosgene poisoning, many people living in residential quarters of the institute flocked to the hospital after the leak happened.

The hospital has organized more than 60 doctors from all departments to deal with the flood of cases. It also called in medical experts to consult about the rare poisoning.

The provincial government leaders are investigating the accident.

Fujian's Vice-Governor Li Chuan has required high priority for the medical treatment, and a thorough environmental clean-up, as well as careful examinations of every possible affected person.

Nearly 2,000 people live in FIRSM's residential quarters. At present, the residents are in good spirits, officials said.

The phosgene gas leaked at 9:30 am on Tuesday from a FIRSM laboratory, killing a 34-year-old man.

The cause of the accident is under investigation. It may have been caused by improper operation of laboratory equipment.




Today's Top News
Top China News

Hu proposes SCO focus on security, economy




FM refutes US claims of negative relations




University quadruple killer executed




Terrorism part of Taiwan separatist agenda




Most gas victims leave hospital




Hu: Great achievements made in economy