University quadruple killer executed
(Xinhua)
Updated: 2004-06-17 22:27
Ma Jiajue, a college student who was sentenced to death for killing four of his Yunnan University classmates, was executed in Southwest China's Yunnan Province Thursday.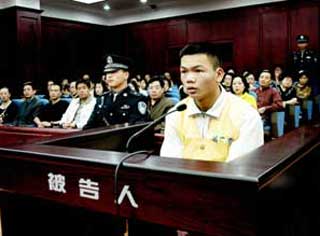 Ma Jiajue stands trial in a Kunming court April 22, 2004 for killing four classmates.


The execution was conducted to comply with a verdict by the Intermediate People's Court of Kunming.

Ma, 22, from the Guangxi Zhuang Autonomous Region, killed four classmates at Yunnan University between February 13 and 15.

His four victims' bodies were found in a school dormitory on February 23, all with fatal blunt-force trauma injuries.

Ma was later listed as chief suspect by the police, and a 200,000 yuan (US$24,000) reward was offered to anyone who provided information leading to his apprehension.

After being at large for 21 days, Ma was captured on March 15 in South China's island province of Hainan. He was escorted back to Yunnan two days later.When asked by police for a motive in the killings, Ma said the four had accused him of cheating during a card game.

The Kunming Intermediate People's Court sentenced Ma to death on April 24.

The Yunnan Provincial Higher People's Court upheld the verdict of the Kunming Intermediate People's Court after an automatic review.

The murder case has attracted nationwide attention, with experts and ordinary people heatedly discussing how a college student could choose to kill his young schoolmates.




Today's Top News
Top China News

Hu proposes SCO focus on security, economy




FM refutes US claims of negative relations




University quadruple killer executed




Terrorism part of Taiwan separatist agenda




Most gas victims leave hospital




Hu: Great achievements made in economy