Suicide car bombing kills 35 outside Iraq base
(Agencies)
Updated: 2004-06-17 14:25
A suicide car bomber killed 35 people at an Iraqi military base in Baghdad on Thursday as guerrillas intensified a bloody campaign to sabotage plans for U.S.-led occupation to give way to Iraqi rule on June 30.
The blast outside an army recruiting center on a busy main road also wounded 119 people, a Health Ministry spokeswoman said. "The toll is still rising," she added.
Colonel Mike Murray of the U.S. 1st Cavalry Division said the bomber had blown up a white four-wheel-drive vehicle at the center near Muthanna airport, where U.S. troops are based.
Chronology-recent major bomb attacks in Iraq
Murray said about 175 army recruits inside the Iraqi base were unhurt. Passersby took the brunt of the blast.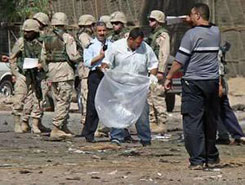 An Iraqi medic searches for body parts after a car bomb explosion outside a recruiting center in the capital Baghdad, June 17, 2004. [Reuters]
One man lay dead in a battered white car after the explosion as Iraqi soldiers, rescuers and locals milled about in confusion. Another bloodied body lay on the road.
It was the latest attack in a lethal drive by guerrillas determined to undermine Iraq's new interim government ahead of the transfer of power from the U.S.-led occupation.
The insurgents, thought to include Baathists loyal to Saddam Hussein, Iraqi nationalists and foreign militants, have targeted Iraq's oil industry, government officials and security forces in the run-up to the handover.
Oil exports, Iraq's economic lifeblood, remained paralyzed on Thursday, and engineers said oil wells were being shut down while pipelines blown up in the south and north were repaired.
On foreign exchange markets, the dollar lost some of its previous day's gains on news of Thursday's blast.
BUSH UNDER FIRE
U.S. President Bush, whose administration is under fire for its Iraq policies, said on Tuesday the United States was "bringing back a 5,000-year-old civilization" in Iraq.
But retired U.S. diplomats and military officers said he had led the United States into an ill-planned war that had weakened U.S. security, directly challenging one of Bush's main arguments for re-election in November.
Bush, speaking at an air force base in Florida, told U.S. troops they were making an essential sacrifice in Iraq.
The U.S. military said a third soldier had died after a rocket attack on a base north of Baghdad on Wednesday. That brought to 610 the number of American troops killed in action in Iraq since last year's invasion to oust Saddam.
"We all believe that current administration policies have failed in the primary responsibilities of preserving national security and providing world leadership," said a statement signed by 27 retired U.S. officials. "We need a change."
The group includes Republicans and Democrats, a former CIA director, two former ambassadors to the Soviet Union and a retired chairman of the military Joint Chiefs of Staff.
Bush's "overbearing" approach to foreign policy has relied too much on military power, spurned the concerns of U.S. allies and disdained the United Nations, the group said.
U.S. Secretary of State Colin Powell rejected the idea that the Iraq war had isolated the United States. "If this is a political statement...and this is their point of view, I disagree," he said of the criticism by the former officials.
HINT FROM NATO
The secretary-general of NATO, which is divided over the Iraq war, said the alliance would not "slam the door in the face" of Iraq's new government if it asked for military assistance.
NATO now only provides logistical support for a Polish-led division in south-central Iraq. France and Germany have said they will not send troops to Iraq, and their resistance to a collective NATO mission has hardened because of the unrelenting violence and a prisoner abuse scandal there.
In the scandal's latest twist, the New York Times reported that Defense Secretary Donald Rumsfeld ordered at least one Iraqi detainee to be kept off prison rolls, effectively making the prisoner a so-called "ghost detainee."
Quoting senior Pentagon and intelligence officials, the paper said the prisoner, suspected of being a high-value "terrorist," was hidden along with other "ghost detainees," largely to prevent the International Committee of the Red Cross from monitoring their treatment and conditions.
Today's Top News
Top World News

Hu: Great achievements made in economy




Price of power rises to stop heavy use




Anti-terror body launched at SCO summit




College student killer executed in Yunnan




Tsang: Business can help shape HK's future




Volkswagen slashes car prices in China