Gas leak kills one, injuries 60 in Fuzhou
By Hu Meidong & Li Dapeng (China Daily)
Updated: 2004-06-16 23:26
A leak of a rare poisonous gas killed one, injured 60 and left hundreds in need of treatment or observation in Fujian Province.
People flooded to the Provincial Hospital after phosgene gas leaked at 9:30 am from a laboratory of the Fujian Institute of Research on the Structure of Matter (FIRSM).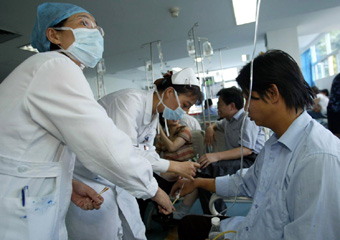 Nurses in Fujian Provincial First Aid Centre give poisonous gas leak victims intravenous drip treatment yesterday in Fuzhou, capital of East China's Fujian Province. [newsphoto]


Phosgene is not a common gas. It can cause respiratory problems, anoxia, headache and emphysema, said Zhu Pengli, vice president of the Provincial Hospital where all but one of the affected workers were treated.

Cases of phosgene poisoning are rare and people do not know much about it. The hospital has little experience with phosgene poisoning.

One after another, hundreds of company staff members showed symptoms of cough, thirst and lacrimation later in the afternoon. They were sent to hospital, said an anonymous FIRSM official.

The first sick worker was a 34-year-old painter. He was sent to the Fuzhou Air Force Hospital in the afternoon. He was confirmed dead.

Later the injured were all sent to the Provincial Hospital.

As of yesterday afternoon, the hospital's first-aid centre had received 428 people affected by the toxic gas. Sixty of them were hospitalized.

Another 100 people were still waiting to be examined.

One patient with respiratory difficulties is undergoing emergency treatment.

Some 50 patients were diagnosed with lung problems. Others, slightly injured, will be kept in the hospital for 24-hour observation, said Zhu.

The hospital has organized more than 60 doctors from all the departments to deal with the flood of cases. Corridors and sickrooms on the second, third and fourth floor of the hospital are now crowded with patients undergoing examinations or treatment.

Du Ruibin, chief doctor of the hospital's radiation department, told reporters that most patients are improving.

Meanwhile, the lack of knowledge about the phosgene poisoning has induced many to flock to the hospital for examination.

Nearly 2,000 people live in FIRSM's residential quarters. The residents have been notified to go for medical examination if they have any symptom, said the institute official.

The cause of the accident is under investigation. It may have been caused by improper operation of laboratory equipment.

FIRSM officials said the leak is sealed up and under control.
Today's Top News
Top China News

Price of power rises to stop heavy use




Foreign input to grow despite cooler steps




NBS: China can avoid severe inflation




Gas leak kills one, injuries 60 in Fuzhou




Hu: Closer links with Central Asia sought




Former Guizhou Party chief tried for bribery