Bush offers rare tribute to Clinton
(Agencies)
Updated: 2004-06-15 14:57
In a rare election-year political truce, US President George W. Bush paid tribute to Bill Clinton and even touted his forthcoming memoirs at the formal unveiling of his White House portrait.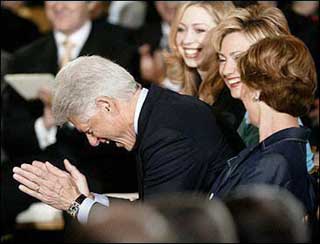 Former US president Bill Clinton bends over in laughter as his wife Senator Hillary Clinton (2nd-R), daughter Chelsea (3rd-R) look on during the unveiling of their Official White House Portraits. [AFP]

The Bush administration has not generally been kind to Clinton since he left office, blaming him at various times for the troubled economy, the North Korean nuclear crisis, Middle East violence, and poor US defenses against terrorism.

But in remarks that Clinton called "generous," Bush lavished praise on his predecessor as well as first-lady-turned Senator Hillary Clinton, whose portraits will hang alongside their predecessors' in the White House.

"Bill Clinton showed incredible energy and great personal appeal. As chief executive, he showed a deep and far-ranging knowledge of public policy, a great compassion for people in need, and the forward-looking spirit that Americans like in a president," Bush said in a speech at the ceremony.

Bush said that Clinton's rise from humble beginnings in the rural state of Arkansas to serve eight years as president "took more than charm and intellect. It took hard work and drive and determination and optimism."

"I can tell you more of the story, but it's coming out in fine bookstores all over America," Bush quipped, a reference to Clinton's eagerly anticipated memoirs, "My Life," due out June 22.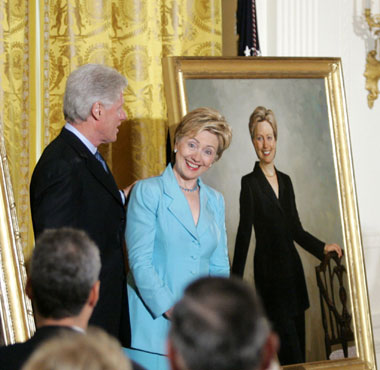 Former US President Bill Clinton (L) and his wife, Senator Hillary Rodham Clinton (D-NY) pose together after their official portraits were unveiled during a ceremony in the East Room at the White House in Washington, June 14, 2004. Former first lady Clinton, whose picture will hang in the White House's lower level near that of her predecessor, Barbara Bush, is the first sitting senator to have her portrait hung in the White House. [Reuters]

"The president, by his generous words to Hillary and me today, has proved once again that in the end, we are held together by this grand system of ours that permits us to debate and struggle and fight for what we believe is right," said Clinton, who had not been back to the White House since January 2001.

The upbeat, friendly exchange came after a week of mourning for former president Ronald Reagan, during which both sides also pledged -- with mixed results -- to freeze political campaigning.

It also recalled a similar political armistice in 1995, when Clinton was the officiant and former president George Bush -- the current president's father -- was the guest at his own portait unveiling.

Clinton, who plans to campaign for Bush's Democratic rival, John Kerry, was poised to retake the spotlight with his book tour after reluctantly giving it up three years ago.

"My Life" enjoys a record 1.5-million-copy first printing. Publishers Alfred A. Knopf paid Clinton an advance of more than 10 million dollars for the 957-page autobiography.

In his remarks, the former president referred to his own worries about the war in Bosnia in an apparent bid to offer advice to Bush on Iraq, suggesting he could find some solace in a portrait of Theodore Roosevelt.

"I used to look at it all the time when I felt bad and I worried, 'Was the war in Bosnia going to come out all right? Would the Kosovar refugees ever be able to go home?'" said Clinton.

"You look at that picture and you see here's a human being who's scared to death and not sure it's going to come out all right. And he does the right thing, anyway. That's what I saw in that picture."

In the coming weeks, the former president has planned a barrage of interviews with US celebrity journalists to tout the book.

Clinton, whose daughter, Chelsea, was in the audience, also is planning an extravaganza in his hometown of Little Rock, Arkansas in November to mark the opening of the William J. Clinton Presidential Center.

The event marked a momentary political ceasefire in what has already been a pitched election-year battle for the White House, which Democratic challenger John Kerry hopes to take in the November 2 vote.

Clinton's precise impact on the contest is unclear, though he has made no secret he hopes Kerry will capture the White House that his vice president, Al Gore, lost to Bush in 2000.

The unveiling was the Clintons' second public event as many weeks, after they both attended Ronald Reagan's funeral Friday.

The oil paintings are the work of self-taught artist Simmie Knox, the first African-American to paint an official presidential portrait.
Today's Top News
Top World News

China's FDI grows, reaching US$25.91b in first 5 months




Taiwan investors welcome in mainland




Bodies of slain workers brought home




Iraq wants Saddam by end of the month




Will power crunch upset global investors?




Fixed asset investment growth slowing