Beijing to raise downtown car parking fees
(chinadaily.com.cn)
Updated: 2004-06-15 14:27
Beijing will raise car-parking fees in the downtown areas in a move to ease traffic congestions in the capital city, but will not impose restrictions on private ownership of cars, a communication official said.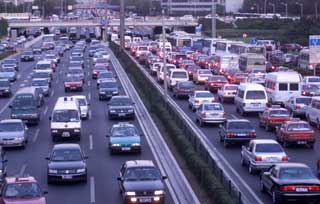 Traffic congestion on Beijing's third ring road is shown in this October 22, 2003 file photo. [newsphoto]

Liu Xiaoming, deputy director of the Beijing Communication Commission, said traffic jam has become a problem for the city with over 11 million people and the city will not adopt a laissez-faire attitude to the issue.

The government will take necessary measures to regulate traffic volume in downtown areas by the leverage of parking fee and availability of parking lots, he said. And to facilitate this, the city will construct large parking grounds along the fifth road, and residents could choose to park their cars there and take the public transport to the downtown areas.

By 2008, the city will have 3.5 million automobiles. However, the municipal government does not want to impose limits cars in view of its booming economy and support for the development of the auto industry.

Beijing's per-capita GDP reached US$3000 last year, ushering in the fastest growth in private car ownership. Besides, the officials believe that the pursuit of private cars shows the development of the society.

But, Liu said, traffic jams in downtown areas force the municipal government to take measures regulating traffic volume in the areas, and the most feasible way is to raise the parking fees in the downtown areas. Liu did not specify the margin for the proposed fee rises.

Underground parking structures in Beijing's downtown Wangfujing area charge about 5 yuan/hour.

According to Liu, a complete public transport system will be established, including subways and light-track railways, and priority will be given to the development of public transport service.
Today's Top News
Top China News

China's FDI grows, reaching US$25.91b in first 5 months




Taiwan investors welcome in mainland




Bodies of slain workers brought home




Iraq wants Saddam by end of the month




Will power crunch upset global investors?




Fixed asset investment growth slowing