Survey finds Tokyo, London most expensive cities
(Agencies)
Updated: 2004-06-14 08:48
London overtook five other locations including Moscow to become the world's second-most expensive city behind Tokyo as the pound rose against the dollar, according to consultant Mercer Human Resources.
London jumped from seventh to second spot in March compared with a year earlier and Tokyo retained the No. 1 position it took from Hong Kong in 2003, according to a survey by Mercer, a unit of Marsh & McLennan Cos.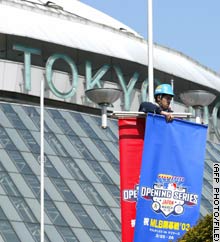 Tokyo maintains a firm grip at the top of the "most expensive" pole. [AFP/File]

``There have been some dramatic movements in the rankings this year which are a largely due to currency fluctuations,'' said Marie-Laurence Sepede, a researcher at Mercer.

The pound rose 11 percent against the dollar in the year through March, boosting the cost of goods and services, from compact discs to bus journeys, in London relative to New York, on which the index is based.

The cheapest city of 144 monitored by Mercer was Asuncion, Paraguay, followed by the Uruguayan capital, Montevideo, according to Mercer's survey which also includes the monthly rental of a two- bedroom apartment and the cost of a cup of coffee and newspaper.

New York, the most expensive U.S. city, slipped to No. 12 from 10th position. The most expensive city using euros was Milan which jumped four places to 13th position.

The following is a table showing the top 10 cities by cost of living according to Mercer. Figures in parentheses are last year's placings.

1 (1) Tokyo 2 (7) London 3 (2) Moscow 4 (3) Osaka, Japan 5 (4) Hong Kong 6 (6) Geneva 7 (8) Seoul 8 (5) Copenhagen 9 (9) Zurich 10 (12) St. Petersburg, Russia 11 (5) Beijing 12 (10) New York 13 (17) Milan 14 (21) Dublin 15 (13) Oslo
Today's Top News
Top World News

New terror network attacked workers in Afghanistan




Program to contain snail fever under way




China posts drop in producer prices




Proactive fiscal policy being phased out




IPR strategy to define government's role




12 killed in Iraq suicide bombing