Israel offers cash advances to settlers
(Agencies)
Updated: 2004-06-11 08:21
The Israeli government plans to offer financial incentives, including cash advances, to Israeli settlers who leave the Gaza Strip voluntarily, officials said Thursday, in a sign that Prime Minister Ariel Sharon wants to complete much of the pullout well before a September 2005 deadline.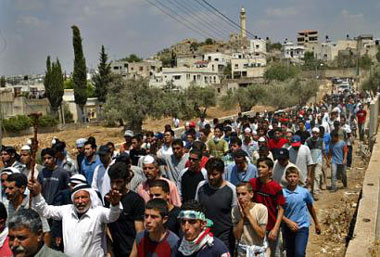 Hundreds of Palestinian residents who were joined by several international peace activists, march during a protest against the construction of Israel's separation barrier in the village of Al-Zawiya, in the northern West Bank, south-west of Nablus Thursday June 10, 2004. [AP]

Officials said many of Gaza's 7,500 settlers are interested in leaving the volatile area, a claim denied by settler representatives who said they'd put up a tough fight against a withdrawal.

Meanwhile, in violence late Thursday, Israeli soldiers shot and killed a 13-year-old boy during a patrol in the West Bank city of Nablus, Palestinians said. Soldiers killed another Palestinian youth in a village near Bethlehem.

In both cases, the military said, soldiers fired at Palestinians throwing firebombs.

Sharon wants to dismantle all 21 Israeli settlements in Gaza as well as four in the West Bank by 2005. Earlier this week, the Cabinet approved the plan in principle, but in a compromise with hard-liners, Sharon agreed to hold a separate vote before taking down settlements.

However, a proposed withdrawal timetable obtained by The Associated Press showed that most preparations for dismantling settlements would be completed well before the next Cabinet vote, set for February.

Starting in August, settlers could begin leaving their homes voluntarily and sign up for compensation "We agreed that those who want to leave voluntarily will receive advances as part of compensation," Finance Minister Benjamin Netanyahu said Thursday. He would not say how much money was being offered.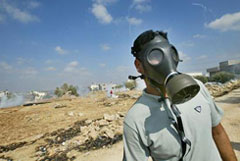 A Palestinian wearing a gas mask watches Israeli forces, unseen, firing tear gas canisters towards Palestinian demonstrators protesting against construction of Israel's separation barrier, in the village of Al-Zawiya, in the northern West Bank, south-west of the Palestinian city of Nablus, Thursday June 10, 2004. [AP]

Full compensation would only be paid once appropriate compensation has been passed. The target for compensation legislation is November.

The timetable gives settlers until Sept. 1, 2005 to leave voluntarily. Those who don't leave on their own would be removed forcibly by Sept. 15, 2005.

The government is considering a cash bonus for those who leave on their own, as one of several options, officials said.

Preparations on a compensation package have already begun, officials said. "Hundreds of settlers have turned to us and said, 'The decision has been made. Why should we wait a whole year? We want to get on with our lives," a government official said on condition of anonymity.

Sharon appears to be trying to get as much of his pullout completed before the next Cabinet vote. This week's vote bitterly divided his government and resignations of hard-liners deprived him of his parliamentary majority.

Sharon's security advisers have been calculating the cost of relocating settlers for months, former Finance Minister Avraham Shochat said.

Shochat, who worked on a similar study about Golan Heights settlers when Israel was pursuing a peace treaty with Syria in the late 1990s, said he had forwarded his material to Sharon's team. "The numbers and the types of populations are not similar," he said, "but they can learn from the system."

It is unclear how many settlers are ready to leave. Many of them are ideologically committed to keeping the land and have pledged to put up a fight.

"Everyone who thinks that they will buy us with money is going to have a very big surprise," said Yigal Kirshenzaft, who lives in the Neve Dekalim settlement in Gaza. "When they come to remove us, they will be surprised at the strong resistance."

Josh Hasten, a spokesman for the Yesha Council, which represents the settlers, said his group believes the "overwhelming majority" will reject compensation offers.

Opponents of the withdrawal accused Sharon of violating the recent Cabinet compromise.

Sharon is now relying on the opposition Labor Party to keep him in power. Labor is already blocking attempts to topple Sharon in parliament, and government officials expect Labor to join the coalition in the coming months.

In other developments, an extremist Jewish settler from the West Bank city of Hebron was released from prison Thursday after being held for more than eight months without charges.

Noam Federman was arrested by Israel's internal Shin Bet security service last year and held in so-called administrative detention, a security measure usually reserved for suspected Palestinian militants. Federman was active in the outlawed anti-Arab Kach movement.
Today's Top News
Top World News

China vows more strikes against terrorism




Japan sending chemists to analyze bombs




Pandas gift people with more births




Industries cool down growth




Volkswagen sides with 2008 Games




Bush: New NATO troops in Iraq not likely