Volkswagen auto partner of 2008 Olympics
(Xinhua)
Updated: 2004-06-10 14:53
Volkswagen Group has become the official automobile partner of the 2008 Olympic Games, the Beijing Olympic Organizing Committee (BOCOG) announced in Beijing on Thursday.
"BOCOG decided to select Volkswagen as the automobile partner after conducting a thorough investigation and all-round evaluation," Wang Wei, BOCOG's vice president and secretary general, told a press conference.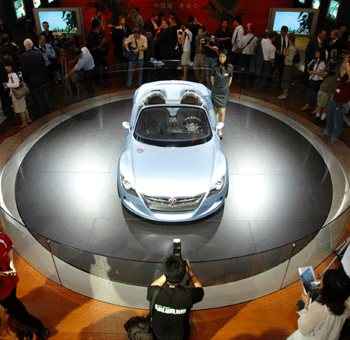 Volkswagen's new "Concept R" coupe is displayed at the Auto China Show in Beijing June 9, 2004. Volkswagen AG on Tuesday brushed off concerns its pole position in the China car market was under threat from rival General Motors, a day after GM made a bid for the top spot with a massive expansion plan. [Reuters]


"I believe that the cooperation between Volkswagen China and BOCOG will play an important role in ensuring a successful Olympics, as well as paving the way for Volkswagen's future in China," he added.

Volkswagen, BOCOG's first official partner, will provide financial, automobile and other forms of support for the 2008 Olympics and Paralympics, BOCOG, the Chinese Olympic Committee, as well as Chinese sports delegation for the 2006 Winter Olympics in Turin and 2008 Olympics.

Wang refused to give any details on the amount of the deal, only saying it's "considerable".

Last year Yuan Bin, vice director of BOCOG's Marketing Department, said domestic partner in a certain field is likely to pay as much as the TOP sponsors. TOP sponsors usually pay over US$50 million each for the quadrennial Olympic Games.

Dr Bernd Pischetsrieder, chairman of the Board of Management of Volkswagen, said Volkswagen is very delighted to get involved in preparations for the 2008 Games.

"Volkswagen is grateful for the trust that BOCOG has in us," said Pischetsrieder.

"It is a great honor for Volkswagen to become the sole official automobile partner of the Beijing 2008 Olympic Games. We hope the 2008 Games will offer us a chance to give something back to society and to the Chinese people, whose enthusiastic support we have enjoyed for many year," he added.

Volkswagen, which established it first joint-venture in China in 1984, sold 697,000 cars in China in 2003, up 36 percent from the previous year. It also retained the market lead with a share of 30.8 percent.

The announcement came one day after the opening of the 2004 Beijing International Auto Show with over 1,400 auto manufacturers' booths at home and overseas attending the car pageant. It was viewed as a move by the German giant to promote its brand and gain marketing edge over its rivals in China.

Wang also said BOCOG is soon to unveil domestic partners in several fields, including banking and telecommunications.

"We will continue to enthusiastically welcome the participation of foreign and domestic companies in the 2008 Olympics," he said.
Today's Top News
Top Sports News

Eleven Chinese workers killed in Afghan attack




State bank splits up in pilot reform




Beijingers rally around Olympic relay




Hu signs communique in Warsaw




Volkswagen auto partner of 2008 Olympics




Half of China's rich aren't spending